Clint Bowyer would like nothing better than to hoist the winner's trophy in victory lane 

Sunday

at Texas Motor Speedway in Fort Worth. After narrowly missing the NASCAR playoffs, the 38-year-old Emporia, Kansas native has made winning a Monster Energy NASCAR Cup Series race a priority in the final three races of the 2017 season.

Texas is as good a place as any for Bowyer to return to the winner's circle, but the Stewart-Haas Racing (SHR) driver isn't going into battle alone Sunday.

NASCAR in the 21st Century is as much a team sport as any in the stick-and-ball arena. The driver is at the tip of the spear that includes a race team, engine builder, manufacturer, corporate partners and other entities. Without that support, getting to victory lane would be near impossible.

Bowyer said he thinks fans sometimes miss the effort it takes to field a successful Cup series entry. He said it's the work done in the race shop that often decides races. Even before his No. 14 Rush Truck Centers/Mobil Delvac 1 Ford Fusion unloads Friday in Texas, his crew will have figured out what it will take to go fast.

"These race teams are so good using their experience, technology and tools that it is just incredible to see them go through a race weekend," Bowyer said. "Whether it's new pavement or old pavement, they can find that optimal grip load in the car and ultimately make the thing fast."

"That is the crazy thing – how close they can get these cars to 100 percent," he added. "Mechanical grip is what I am talking about. Aero grip and things like that are some things that you can or can't adjust but, at the end of the day, all the teams in this garage at this level are pretty good at getting this thing close to 100 percent."

If all those factors click, then Bowyer will be a factor on Sunday. He's enjoyed success at the 1.5-mile Texas oval posting three top-five finishes and 10 top-10s in 24 races. In 2006, Bowyer won a Camping World Truck Series race at Texas. Bowyer started third in April at Texas and raced as high as fourth in the final stage before finishing 11th. "Like a lot of folks, we just couldn't get the handling right," he said that night.

Bowyer and the rest of the field will be a bit more familiar with the Texas track this weekend.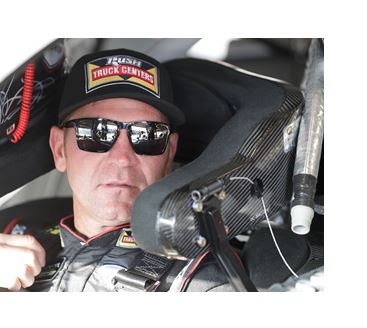 Sunday marks the second Cup Series race on the reconfigured Texas track. Before the April race, the track and pit lane underwent a complete repave while turns one and two were re-profiled, altering the configuration of the oval.
He visits Texas a week after a third-place finish at the .526-mile Martinsville (Va.) Speedway. Bowyer started fifth at the short track and rallied to third after dropping as far back as 26th. It was a welcome finish for Bowyer, who's hoping he's ended a recent run of back luck. Accidents by other drivers collected Bowyer at Charlotte, Talladega and Kansas, ruining his chances for a good finish.
Bowyer, who is in his first season with SHR after replacing three-time champion Tony Stewart in the No. 14 Ford led by crew chief Mike Bugarewicz, has posted three second-place finishes and two third-place finishes. The team narrowly missed earning one of 16 berths in NASCAR's playoffs – despite Bowyer's average finish of 15.0 that is ninth-best of all full-time drivers this season.
If Bowyer can keep the Martinsville momentum going and his crew is as adept at finding the optimum setup as Bowyer describes, then it could be quite an exciting, happy and probably quite crowded victory lane at Texas Motor Speedway late Sunday afternoon in the Lone Star State.
Clint Bowyer: Driver of the No. 14 Rush Truck Centers/Mobil Delvac 1 Ford Fusion for Stewart-Haas Racing:
What are your thoughts on Texas?
"Texas is one of those big, fast, high-banked tracks. You just have to go. We've been close there a number of times over the years. At Texas, it's all about having the sheer speed. On those 1.5-mile tracks, you have to have a car that unloads fast. You can be a little bit tight or a little bit loose but, if that car isn't making grip, making downforce and having the speed on the racetrack, then you are going to struggle. Unloading a fast hot rod right off the truck is going to be so important because you are going to have to qualify well and have that track position to be a contender."
No. 14 Rush Truck Centers/Mobil Delvac 1 Ford Fusion Team Report
Round 34 of 36 – AAA Texas 500 – Texas
Car No. 14: Rush Truck Centers/Mobil Delvac 1 Ford Fusion for Stewart-Haas Racing

At Track PR Contact: Drew Brown with True Speed Communication (Drew.Brown@TrueSpeedCommunication.com)
Primary Team:

Driver: Clint Bowyer

Residence: Emporia, Kansas

Crew Chief: Mike Bugarewicz

Hometown: Lehighton, Pennsylvania

Car Chief: Jerry Cook

Hometown: Toledo, Ohio

Engine Specialist: Matt Moeller

Hometown: Monroe, New York

Engine Builder: Roush Yates Engines: Mooresville, North Carolina

Spotter: Brett Griffin

Hometown: Pageland, S.C.

Over-The-Wall Crew:

Front Tire Changer: Daniel Coffey

Hometown: Granite Falls, N.C.

Front Tire Carrier: Brett Morrell

Hometown: Windham, Maine

Rear Tire Changer: Chris JacksonHometown: Fort Mill, S.C.

Rear Tire Carrier: Josh Sobecki

Hometown: New Kensington, Pennsylvania

Gas Man: James "Ace" Keener

Hometown: Fortuna, California

Jackman: Getty Cavitt

Hometown: Owensboro, Kentucky

Windshield: Justin Peiffer

Hometown: Lebanon, Pennsylvania

Road Crew:

Truck Drivers: William "Stump" Lewis and Rob Fink

Hometown: Linkwood, Maryland and Baltimore, Maryland, respectively.

Engineers: Lee Deese, Chris Chidgey and Kenny Oates

Hometown: Rockingham, North Carolina, Gainesville, Florida and Huntersville, North Carolina, respectively.

Mechanics: Tony Silvestri and Rich Letendre

Hometown: Sylvania, Ohio and Lowell, Massachusetts, respectively

Tire Specialist: Russell Simpson

Hometown: Medford, New York

Shock Specialist: Wayne Smith

Hometown: Melbourne, Australia
Rush Truck Centers' service technicians help move SHR transporters from race to race throughout the season. Just as these detail-oriented professionals are an integral part of the race team, they also help businesses around the country by providing superior customer service and getting their customers' trucks back on the road. Rush Truck Centers has 2,100 technicians at more than 100 locations across the country and are always looking for more talented professionals to join the team. The American Trucking Association estimates the industry will need an additional 200,000 technicians over the next 10 years to replace the 40 to 50 percent of the current truck technicians expected to retire before 2030.
Mobil Delvac 1 is a fully synthetic high performance heavy duty diesel engine oil that helps towards long engine life while providing long drain capability for modern diesel engines operating in severe applications.
Bowyer owns career totals of eight wins, two poles, 64 top-five finishes, 180 top-10s and 2,360 laps led in 430 NASCAR Cup Series races. He also owns eight Xfinity Series victories.

His most recent Cup Series victory came at Charlotte (N.C.) Motor Speedway (Oct. 13, 2012).
His most recent Cup Series pole came at New Hampshire Motor Speedway in Loudon (Sept. 16, 2007).
Tony Stewart and Gene Haas co-own Stewart-Haas Racing (SHR), which has recorded 38 victories and 34 poles since its inception in 2009. Stewart won the 2011 NASCAR Cup Series title and Kevin Harvick gave SHR its second title in 2014. SHR's Kurt Busch won this year's season-opening Daytona 500, and Harvick won 

June 25

 at Sonoma (Calif.) Raceway.
Crew chief Mike Bugarewicz is in his second season after overseeing Stewart's final campaign in 2016. Bugarewicz's pit strategy played a key role in Stewart's victory at Sonoma in June 2016. The Lehighton, Pennsylvania native served as the lead engineer on SHR's No. 4 entry in 2014 and 2015. The Penn State University graduate was the only rookie crew chief to be part of last year's Cup Series playoffs.
SHR has four poles and one points-paying victory at Texas, plus seven top-five finishes and 17 top-10s in 50 starts.
Bowyer's Top-Five Finishes In 2017

2nd-place: 

Bristol (Tenn.) Motor Speedway (

April 24

)
Sonoma (Calif.) Raceway (

June 25

)
Daytona (Fla.) International Speedway (

July 1

)

3rd-place:

Auto Club Speedway in Fontana, Calif. (

March 26

)
Martinsville (Va.) Speedway in Fort Worth (Oct. 29)
​Bowyer's Stage Victories In 2017

Pocono (Pa.) Raceway Stage 2 (July 30, 2017)
Bowyer Cup Series Career Victories:

Charlotte (N.C.) Motor Speedway (Oct. 13, 2012)
Richmond (Va.) International Raceway (Sept. 8, 2012)
Sonoma (Calif.) Raceway (June 24, 2012)
Talladega (Ala.) Superspeedway (Oct. 23, 2011)
Talladega (Ala.) Superspeedway (Oct. 31, 2010)
New Hampshire Motor Speedway in Loudon (Sept. 19, 2010)
Richmond International Raceway (May 3, 2008)
New Hampshire Motor Speedway in Loudon (Sept. 16, 2007)
Bowyer Cup Series Career Poles:

New Hampshire Motor Speedway in Loudon (Sept. 14,2007)
Darlington (S.C.) Raceway (May 11, 2007)
​Bowyer Career Cup Series Points Finishes:

2016 27th
2015 16th
2014 19th
2013 7th
2012 2nd
2011 13th
2010 10th
2009 15th
2008   5th ​
2007  3rd
2006 17th
Bowyer Cup Series Career Stops:

2017  Stewart-Haas Racing
​2016  HScott Motorsports
2012-2015  Michael Waltrip Racing
2006-2011 Richard Childress Racing
Bowyer Xfinity Series Championship:
Bowyer Xfinity Series Career Victories:

Dover (Del.) International Speedway (Sept. 26,2009)
Daytona (Fla) International Speedway (July 3, 2009)
Bristol (Tenn.) Motor Speedway (March 15, 2008)
Richmond (Va.) International Raceway (May 4,2007)
Phoenix (Ariz.) International Raceway in Avondale (April 20, 2007)
Dover (Del.) International Speedway (Sept. 23, 2006)
Memphis (Tenn.) Motorsports Park  (Oct. 22, 2005)
Nashville (Tenn.) Superspeedway (June 12, 2005)
Bowyer Camping World Truck Series Victories:

Kansas (Kan.) Speedway in Kansas City (June 4, 2011)
Phoenix (Ariz.) International Raceway in Avondale (Nov.12, 2010)
Texas Motor Speedway in Fort Worth (Nov 3, 2006)
 TIL NEXT TIME, I AM STILL WORKING ON MY REDENCK!