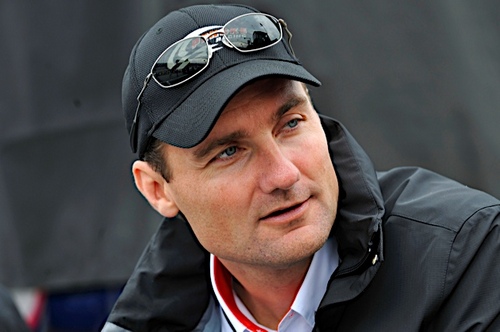 As first reported earlier, Team Penske President Tim Cindric will not be calling race strategy for Will Power in the 2017 Verizon IndyCar Series season, but will instead be on the pit stand for Team Penske newcomer Josef Newgarden.
Jon Bouslog, who was the strategist for Juan Pablo Montoya in 2015 and 2016, will call the shots for Power. The switch ends a 5 ½-year alliance between Power and Cindric. It also signifies increased expectations for Newgarden, who joined Team Penske in October after finishing fourth in the 2016 championship for Ed Carpenter Racing.
Cindric had been in charge of Power's pit since the Honda Indy Toronto in July 2011. Power earned 17 of his 29 career Indy car victories with Cindric calling strategy and the duo combined to win 2014 Verizon IndyCar Series championship.
"As we look back, Will and I had a lot of good times but he will continue that without me," Cindric told the Verizon INDYCAR Mobile app. "Will has won no matter who is in his pit and I think it's important to understand the transition. As I looked at where our strengths are and where our experience is, Myron (Bouslog's nickname) and I talked about it and thought we should switch this thing up a bit.
"If we don't get off on the right foot, at least we will understand why. I'm confident the (No.) 12 car group (Power) will be just fine with or without me and the (No.) 2 car group (Newgarden) is in a good place, but I want to help his transition be the right one."
Newgarden has relocated to North Carolina to be near the Team Penske shop in Mooresville. The chance to work with Cindric is impressive to the 26-year-old driver from Hendersonville, Tennessee, who has lived in Indianapolis since joining the Verizon IndyCar Series in 2011.
"Yes, yes – that's exciting to have Tim running my team," Newgarden told the Verizon INDYCAR Mobile app. "I'm excited to work with Tim. I respect him a lot within motorsports. He has done a great job with Team Penske. Look at the history with him being a team leader – they have a lot to stand on as a group.
"It's going to be exciting to work with him," said Newgarden, a rising star in the series who has won three races in the past two seasons. "I think he is a great leader and will probably help me be better at my craft and help me improve from what I've done in the past. I hope to collaborate well with him and the whole team on the No. 2 Verizon car and having success together."
Bouslog believes he will fit in well with Power, who, like Montoya, is another veteran driver.
"It's a different opportunity to work with (race engineer) David Faustino and Robby Atkinson, the data guy, and the rest of Power's crew," Bouslog told Verizon INDYCAR Mobile app. "It's probably the best overall crew of people. I think I will learn a lot, to be honest with you.
"There are so many people involved in strategy during the race, you can't watch everything. There are so many eyes on it. It's going to be a collective team effort just like before. I think it's the right thing to do with a new driver in Josef. Tim knows how to handle the new drivers, the expectation level of the team. The best move is to do that for Josef so he has the best of everything to win."
Team owner Roger Penske will continue to call strategy for three-time Indianapolis 500 winner Helio Castroneves. Team manager Kyle Moyer remains in charge of 2016 Verizon IndyCar Series champion Simon Pagenaud's race strategy.
Castroneves recently mentioned that two-time Indianapolis 500 winner Montoya, signed only to drive this year's Indy 500 for Team Penske, might drive an additional race before the May 28 race. Cindric said that extra race might be the INDYCAR Grand Prix on the Indianapolis Motor Speedway road course May 13.
"I would be surprised if we do anything before May," Cindric said. "If we do anything, it would be, 'Do we do the road course race at Indianapolis or not?' But I don't think we will do another race before May."
Putting Cindric with Newgarden most definitely signals the importance of getting off an the best foot possible with the new kid on the block!
TIL NEXT TIME, I AM STILL WORKING ON MY REDNECK!