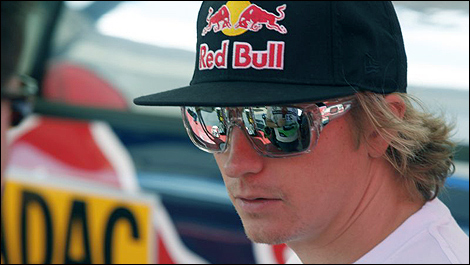 (photo courtesy Citroen Racing)
Could another ex-Formula 1 driver be coming to NASCAR?
Finland's World Champion driver, Kimi Raikkonen, told a Finnish publication, Turun Sanomat, that he will be racing with a new team first in the Camping World Truck Series aiming at a full-fledged Sprint Cup program in the future.
Although he races in the World Rally Championship in Red Bull livery the new team is reportedly connected to Foster Gillett, the former principal of RPM (now Richard Petty Motorsports) which had merged with GEM previously. Foster's family, specifically his father George Gillett, owned the Montreal Canadiens' NHL franchise and had to sell their interest in RPM team due to obligations arising out of his British soccer team.
No date has been announced for the launch of the new team.
Raikkonen told Turun Sanomat "I'm really looking forward to get there to familiarize to the world of NASCAR."
"I have been following it for a long time. I know it's a very tough and open top racing series. I just love the American spirit of racing. It feels just great to get involved with that. Obviously, it will be very challenging and great fun for me."
If the deal comes through Raikkonen would be joining drivers like Jacques Villeneuve, and Narain Karthikeyan who briefly ran in NASCAR events and Juan Pablo Montoya who is running full-time in the Sprint Cup Series and Brazil's Nelson Piquet Jr. who is running full-time in the Truck Series.
Ray Evernham, a former partner of Foster Gillett at Richard Petty Motorsports was a little bit astounded when he learned of the rumour of Kimi Raikkonen coming to NASCAR with a new team owned by Foster Gillett.
"I really don't know why Kimi would partner with people who continually fail with sports franchises," Evernham told Auto123.com.
"I don't know how they could leave with so many unpaid bills and return to the sport," Evernham added.
Evernham, the former Jeff Gordon crew chief, who founded Evernham Motorsports merged with Gillett to form GEM racing. When Petty Enterprises ran into some financial headwinds it merged with GEM to become Richard Petty Motorsports.
Gillett's debts with his British soccer team forced a sale of the racing team's assets back to Petty and NY investor Andrew Murstein, but, Evernham says he was not paid over $19 million and brought a lawsuit against his former partner earlier this year in a state court in North Carolina.
Evernham now has rejoined the Hendrick companies (where Jeff Gordon races) working other projects.
What are your views on Kimi Raikkonen possibly joining the NASCAR ranks with George and Foster Gillett as partners?
TIL NEXT TIME, I AM STILL WORKING ON MY REDNECK!