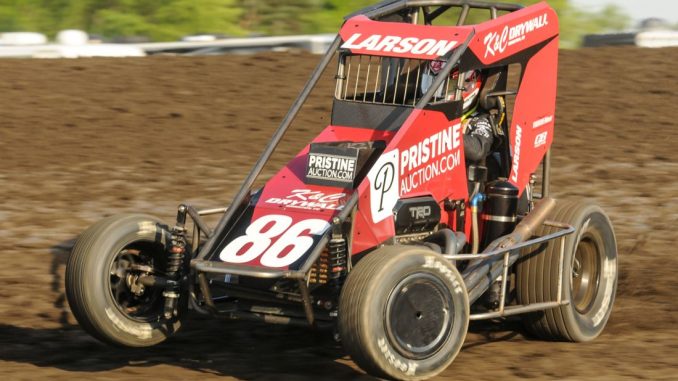 After having his winning streak snapped the previous night Kyle Larson started what he hopes is another streak by winning the main event Saturday night at Lawrenceburg Speedway during Indiana Midget Week. Larson battled the entire 30-lap distance for the lead with Buddy Kofoid and Thomas Meseraull taking the lead during a late race restart and holding off Meseraull at the end of the victory.
The victory was Larson's fourth out of five races during Indiana Midget Week and 14th overall during the 2020 calendar year. The win also kept Tucker-Boat Motorsports undefeated during Midget Week with Larson's teammate Chris Windom winning the only feature Larson was not victorious in Friday at Lincoln Park Speedway.
While Larson has worked hard at every round of Indiana Midget Week, the race at Lawrenceburg was intense dicing with Meseraull and Kofoid.
"I've had to work for all of them, but this one especially," said Larson of his hard fought race with Meseraull and Kofoid. "I couldn't really run the top like I wanted to because I would bounce a lot and if I got into the cushion I would get bogging, so I knew had to make something else work. I slid (Meseraull) one time and felt there was a lot of grip at the entry of (turn) one. Once I got clear of (Kofoid) after he got by me on the one restart I was able to just run that line to protect any sliders that might get thrown at me. At the same time I could make up a little ground on (Meseraull). I knew that last caution I had to do everything I could because there was only a few laps to go. "
Kofoid took the lead at the start while Larson and Meseraull raced for second. After a red flag on lap six for Andrew Laser turning over between turns three and four Meseraull took the lead while Kofoid and Larson raced for second. Larson was able to get the position from Kofoid and started to pressure Meseraull for the lead on lap nine.
After a lap 10 caution Mersaull, Larson, and Kofoid briefly raced three wide for the lead with Meseraull holding the top spot. With 11 laps to go slower traffic started to come into play. This allowed Larson to try a slide job on Meseraull in turns one and two, but Meseraull was able to counter on the other end of the racetrack. As Larson and Meseraull battled for the lead Kofoid nearly slipped by both to take the lead when the caution appeared again when Justin Grant slowed on the track.
Meseraull continue to lead while Larson and Kofoid raced for second. Kofoid ended up getting to far into the cushion in turns three and four allowing Larson to take second position with six laps to go. One lap later Larson was able to slide by Meseraull for the lead.
Larson pulled away for the victory as Kofoid was able to wrestle second away from Meseraull at the end. Chris Windom and Tyler Courtney rounded out the top five.
TIL NEXT TIME, I AM STILL WORKING ON MY REDNECK!