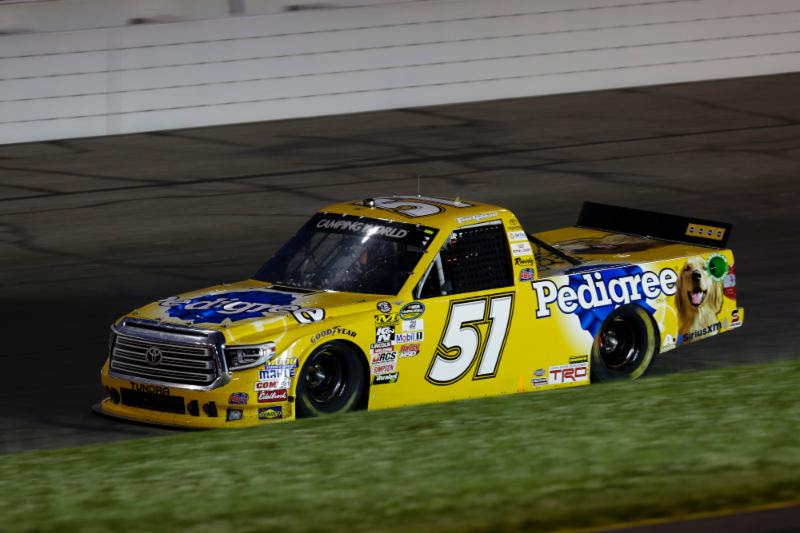 Date:                            June 17, 2017
Event:                          Drivin' For Lineman 200 (Race 8 of 23)
Series:                          NASCAR Camping World Truck Series
Location:                     Gateway Motorsports Park (1.25-mile oval)
Format:                       Three Stages; 35 laps/35 laps/90 laps
Start/Finish:                Fourth/21st (Transmission, completed 112 of 160 laps)
Winner:                       John Hunter Nemechek of NEMCO Motorsports (Chevrolet)
Todd Gilliland, driver of the No. 51 PEDIGREE® Toyota Tundra, ran a promising race in

Saturday

night's Drivin' For Lineman 200 at Gateway Motorsports Park until a transmission problem ended the rookie's night early. The 160-lap race was only his second-career start behind the wheel of the Kyle Busch Motorsports Tundra for the NASCAR Camping World Truck Series (NCWTS).
Stage One Recap:
When the green-flag dropped for

Saturday

night's race, Gilliland rolled off in the fourth position. By the second lap Gilliland drove his way to third and stayed in that position for most of the stage. As Stage One winded down, the 17-year-old was fighting a tight Tundra and ended the stage in the sixth place.
Stage Two Recap:
Gilliland started Stage Two by stopping on pit road for two right-side tires, but when a violation on pit road forced him to make a second stop, the No. 51 Toyota Racing team added a set of left-side tires as well. After restarting the race 16th on Lap 42, Gilliland quickly raced his way back through the field and cracked the top-10 on Lap 60. When the caution came out to end the stage, Gilliland was scored 10th.
Stage Three Recap:
After making a trip to pit road for only two left-side tires, Gilliland started the final stage of the race from the third position. As the stage progressed, the rookie lost spots on the track to competitors racing on newer tires. With only 48 laps to-go, Gilliland reported that his transmission had failed and he was forced to park his No. 51PEDIGREE® Toyota Tundra a few laps early. When the checkered flag waved he was scored 21st.
TIL NEXT TIME, I AM STILL WORKING ON MY REDNECK!