Jimmie Johnson
No. 48 Carvana Honda
"Last year's race was a lot of fun. There was a lot of energy in the city, and it was a wild race. It was certainly a weekend that was tough on me. I had a few incidents that I hope to learn from, apply those lessons and have a better race weekend coming up. I'm excited to be in an area that loves motorsports, and in downtown Nashville with all of the energy that it provides. Looking forward to the pit stop competition Thursday afternoon, being on-track the rest of the weekend and seeing all of the great fans."
INDYCAR Returns to the Music City with four races to go in the 2022 NTT INDYCAR SERIES. Chip Ganassi Racing drivers will look to get their hands on valuable points on the Streets of Nashville as the team chases history. No team has won three straight series championships since Dario Franchitti did it himself with CGR from 2009-11, and no team has ever won it three straight years with three different drivers. 

Marcus Ericsson looks to re-gain the top spot on the series standings at the race he won at the inaugural event last year. Ericsson found himself starting in P18 to 'full airborne mode' to victory circle in the street course race.

Chip Ganassi Racing earned the only 1-2 finish by teammates across all races last season in Nashville with Scott Dixon and the No. 9 PNC Bank Honda finishing in 2nd behind the Marcus and the No. 8 Bryant Honda.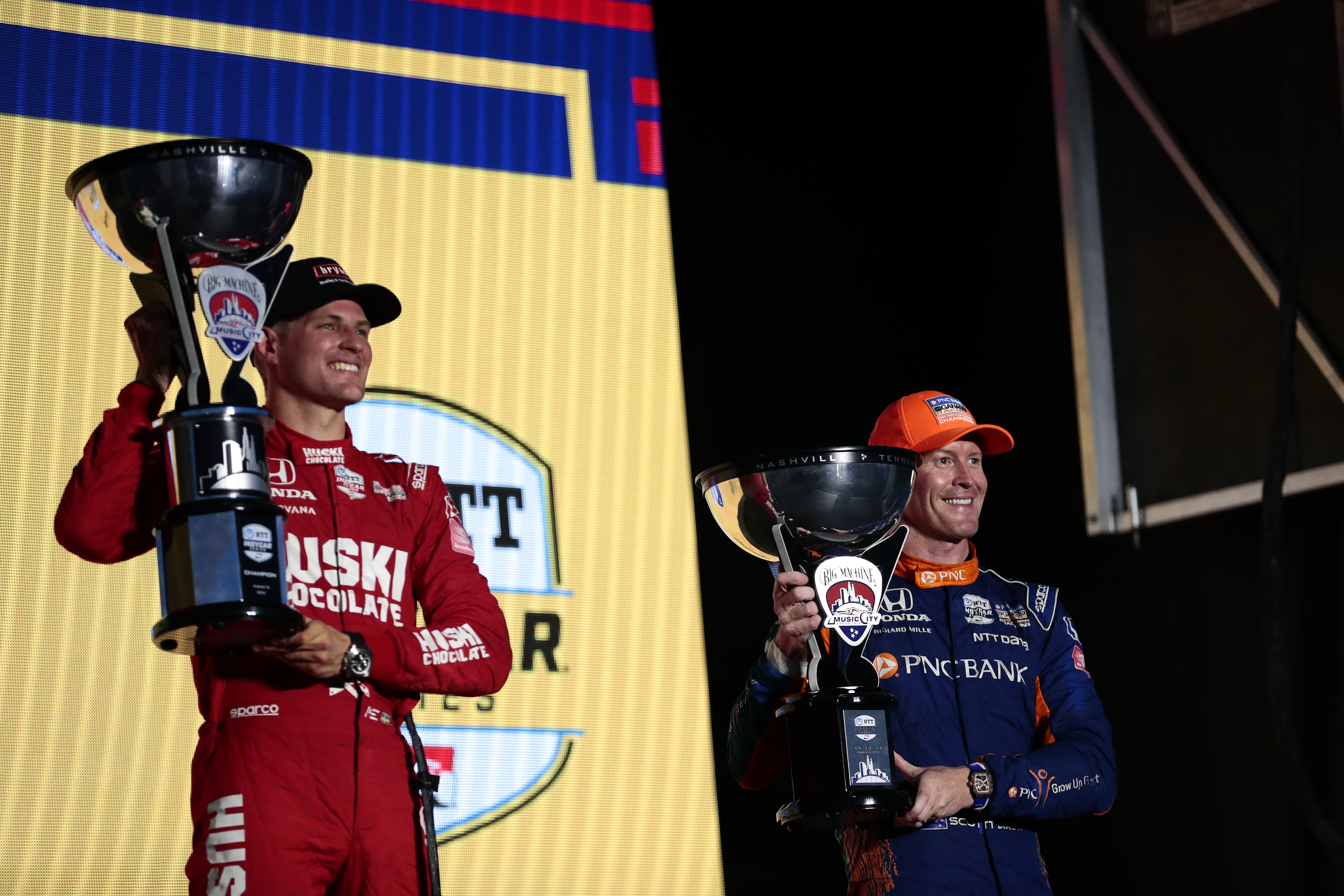 Dixon and the No. 9 PNC Bank Honda team enter Nashville with considerable momentum on his side.  Leaving Road America at the midpoint of this season, Dixon sat 6th in the series standings with a 69-point deficit. Since then, he has finished top-5 in four of the five races and top-10 in each of those races. He's picked up 169 points in that time, the most in the field, and now ranks 4th in points, 38 from the leader. 

2022 NTT INDYCAR SERIES Standings
Entering Big Machine Music City Grand Prix
1      Will Power                431
2      Marcus Ericsson     422
4      Scott Dixon              393
6      Alex Palou                379
21    Jimmie Johnson      166

The street course may lend itself to Dixon and the Ganassi drivers. The Iceman has posted an average finishing position of 4.95 on street course races over the past five seasons, the top mark among the field.

Alex Palou and the No. 10 NTT DATA Honda have also found success on street course races of late. He has gained +36 positions from the start to finish of street course races this season, the most among the field. His average finishing position of 4.25 on such tracks also ranks as the top mark this year.

Jimmie Johnson has been a 'big mover' on street courses in the No. 48 Carvana Honda, gaining +20 positions from the start to finish of such races over the past two seasons, tied with teammate Scott Dixon for the 7th-most among the field in that span.
Catch coverage for the Big Machine Music City Grand Prix on Sunday, August 7 at 3:00 PM ET on NBC and Peacock, and be sure to follow along with the action on theINDYCAR App powered by NTT Data.
TIL NEXT TIME, I AM STILL WORKING ON MY REDNECK!