ARCA Menards Series
VizCom 200
Michigan International Speedway
August 9, 2020
Race Highlights:
· Sunday's VizCom 200 put the ARCA Menards Series past halfway, as the 11th race of the season.
· Venturini Motorsports (VMS) fielded three Toyota Camry's for both events: No. 15 Drew Dollar, No. 20 Ryan Repko and No. 25 Michael Self.
· Officials held a shortened, group style practice session Sunday morning. Drew Dollar laid down the second quickest time, followed by Michael Self third and Ryan Repko fourth.
· Using 2020 Owner's Points, the field was set, Ryan Repko rolled off second, Michael Self third and Drew Dollar fifth.
· Setting his sights on the front, Drew Dollar quickly worked his way to third place, behind the leaders. Repko followed suit, in fourth and Michael Self, fighting major handling issues, settled into fifth.
· Stage 1 ended on lap-30, giving everyone a chance to come to pit road. All three VMS cars took tire, fuel and a round of adjustments.
· Back green flag racing, Self reported his Toyota Camry was much better, as all three VMS entries raced inside the top-five.
· Following the lap-60 end to Stage 2, the fleet of Toyota's stayed inside the top-five, until Repko had a minor rear suspension issue, forcing him out of the top-five.
· Checkered flag waving on lap-100, Self would finish third, with Dollar in fourth and Repko seventh.
· On deck next for VMS is the ARCA Menards Series race at the Daytona International Speedway road course, on Friday, August 914h. The team will field Toyota entries for: No. 15 Drew Dollar, No. 20 Chandler Smith and No. 25 Michael Self
Drew Dollar No. 15 Sunbelt Rentals Toyota Camry
"We had a really fast Toyota at Michigan (International Speedway) and I absolutely loved the track. Solid top-five for our Sunbelt Rentals team today and something we can build on going forward. Learned a ton and I'll focus on getting better every week."
Start – 5 Finish – 4 Points – 3rd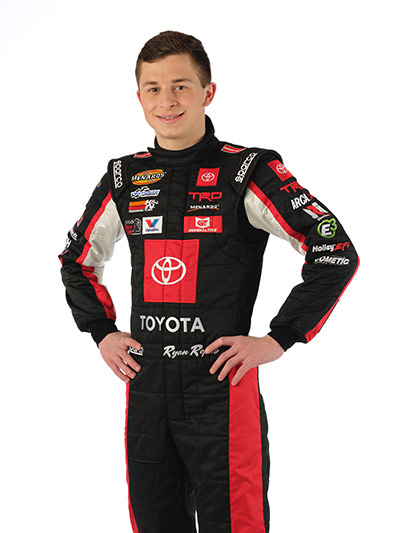 Ryan Repko No. 20 Craftsman, Cometic Gaskets Toyota Camry
"We started off with a strong Craftsman, Cometic Gaskets Toyota at Michigan (International Speedway). I had hoped to end my season on a higher note, but I'm very thankful for the opportunity to compete for Venturini Motorsports and Toyota this year and overall it was a great season."
Start – 2 Finish – 7
Michael Self No. 25 Sinclair Oil, Champion Power Equipment Toyota Camry
"Third is definitely a step in the right direction for our team. The crew made some really good changes when our car wasn't very good after the first stage and they got the balance of the car really good. With some better track position I think we could've contended with the front two, but we've got to keep working on things and figure out how to find a little more speed on the big tracks with this reduced horsepower."
         Start – 3                      Finish – 3                     Points -1
TIL NEXT TIME, I AM STILL WORKING ON MY REDNECK!