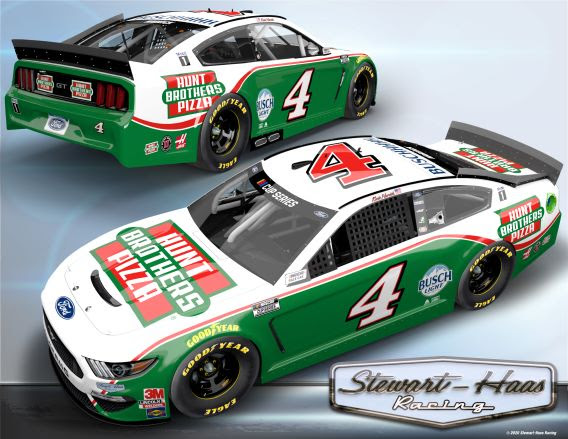 KEVIN HARVICK
1.5 Tracks Left!
Kevin Harvick heads to the 1.5-mile Kentucky Speedway oval in Sparta with 1.5 tracks left to win at on the NASCAR schedule.
How is this possible?
After his victory on June 27 at Pocono (Pa.) Raceway, Harvick still has yet to win at Kentucky, which made its NASCAR Cup Series debut in 2011. He also hasn't won on the "roval" at Charlotte (N.C.) Motor Speedway, which first appeared on the schedule in 2018.
Harvick did win on the Charlotte oval in the 2011 and 2013 Coca-Cola 600, and the 500-mile fall race in 2014. So perhaps that explains the .5 of the 1.5 tracks.
If he gets the victory at Kentucky, the Charlotte roval is all that is left to conquer.
He's come close at Kentucky, having finished in the top-10 in six consecutive races there from 2013 to 2018. He scored his first top-five when he came home fifth in 2018.
Harvick has scored two NASCAR Xfinity Series wins at the 1.5 mile Kentucky oval, the first coming in 2001 and followed up 13 years later in 2014.
And while he's looking for his first Cup Series win at Kentucky, so is sponsor Hunt Brothers Pizza.
With more than 7,800 locations in 30 states, Hunt Brothers Pizza is the nation's largest brand of made-to-order pizza in the convenience store industry. Hunt Brothers Pizza offers original and thin crust pizzas available as a grab-and-go Hunk perfect for today's on-the-go lifestyle, or as a customizable whole pizza that is an exceptional value with All Toppings No Extra Charge®. Headquartered in Nashville, Tennessee, Hunt Brothers Pizza is family owned and operated with more than 25 years of experience serving great pizza to convenience store shoppers through its store partners. To find a Hunt Brothers Pizza location, download the Hunt Brothers Pizza app by visiting www.huntbrotherspizza.com/app/
Hunt Brothers Pizza has partnered with Harvick for 11 years and last visited victory lane with him when he won the 2018 NASCAR Xfinity Series race at Atlanta. In 2019, Hunt Brothers moved up to the Cup Series as a primary sponsor for three races and, in 2020, will be on Harvick's car five times.
Harvick is coming off last Sunday's third career win at the Indianapolis Motor Speedway and has four victories this season. He is 12th on the all-time NASCAR Cup Series wins list and is just one behind Lee Petty for 11th. Petty has 54 wins, while Rusty Wallace has 55 and Kyle Busch has scored 56.
Harvick is hoping he can heat up at Kentucky and score his first win at the 1.5-mile oval and keep moving up the wins list.
KEVIN HARVICK, Driver of the No. 4 Hunt Brothers Pizza Ford Mustang for Stewart-Haas Racing:
Back in 2018, you said at that point winning had become a game. Since then, you've won 16 races, including last week. Is there any way to describe what it's like to perform at a level like this?
"I think there are a lot of things that come into play. You have a manufacturer change that's in the middle of that. But in the end, I think when you look at the root of the equation, it's the team, right? It's the crew chief and the driver that have been together, the engineer. We had one engineer move on, but we've had the same engineer with Dax (Gerringer). You keep adding little pieces to keep making that puzzle come together and fit together well. But experience plays a big role in this. I think for us, when we come to the racetrack, I know I have to be prepared. I know every guy on my team is going to be prepared and has done everything he can during that week leading up to that race to do 100 percent of his job. If you're not prepared, you've let every person down because that's the type of team we've been fortunate to put together over the last seven years. Everybody at Stewart-Haas Racing allowed us to do that from the beginning. It keeps progressing. You keep getting more and more details out of things because you keep the people together, and everybody believes in what I just said. If you don't do 100 percent of your job during the week, you have let the rest of the team down because they have."
Having a formidable opponent like Denny Hamlin, does it just make you want to come to the track and perform well? Does it put you in a more competitive mode than normal because of the level you're both competing at right now?
"Yeah, it's interesting for sure. We kind of went back and forth there, I was leading, then he was leading, then he has trouble. You have to kind of smile about it because it's two teams performing at a tremendously high level right now. It has cycled around to the two of us for several weeks now. I think as you look at that, it definitely makes it fun. You want to have the upper hand on the who finishes in front of who ratio at this point, especially because if that's the guy you're racing and the team you're racing, you want to at least stay even par. Those guys are good. They're doing a great job. Obviously, leading the charge at Joe Gibbs. Our guys are doing the same. On days when you think you're out of it, you keep grinding, all of a sudden you wind up in victory lane, those are the days you smile because you know everybody did their job and kept themselves in the game."
Can you talk about the longstanding relationship with Hunt Brothers Pizza?
"Our fans are pretty loyal to the brands that are on our cars. Many of my pictures come from the standees in the store. People take selfies next to them. There are a number of reasons you have sponsorships – you want that brand recognition, the brand integration. Hunt Brothers Pizza is a very family oriented company and we're a very family oriented group from the Harvick side of things. Those relationships you build through the years with brands that recognize and reflect what you believe in are few and far between. We've grown with the Hunt Brothers brand. They've grown with us and been very loyal to us and I think our fans are very loyal to us and the brand. It's fun to see that brand recognition and that understanding of loyalty and partnership. I realized how many Hunt Brothers Pizza stores there are whenever I drove to racetracks after the hiatus."
Hunt Brothers Pizza Racing Team Report
Round 17 of 36 – Kentucky 400 – Kentucky Speedway
Car No.: 4 – Hunt Brothers Pizza Ford Mustang
Primary Team Members:
Driver: Kevin Harvick
Hometown: Bakersfield, California
Crew Chief: Rodney Childers
Hometown: Mooresville, North Carolina
Car Chief: Robert Smith
Hometown: Whitewater, Wisconsin
Engine Builder: Roush-Yates Engines
Headquarters: Mooresville, North Carolina
Engine Specialist: Robert Brandt
Hometown: Mobile, Alabama
Spotter: Tim Fedewa
Hometown: Holt, Michigan
Over-The-Wall Crew Members:
Front Tire Changer: Shayne Pipala
Hometown: Frankfort Square, Illinois
Rear Tire Changer: Daniel Smith
Hometown: Concord, North Carolina
Tire Carrier: Mike "Shrek" Morneau
Hometown: Oxford, Maine
Gas Man: Evan Marchal
Hometown: Westfield, Indiana
Jackman: Stan Dolittle
Hometown: Ninety Six, South Carolina
Windshield: Shawn Hopkins (also serves as interior mechanic)
Hometown: Chesterfield, Virginia
Kentucky Notes of Interest:
· Dynamic Duo: While this is Harvick's 20th year in the NASCAR Cup Series, it's his seventh with crew chief Rodney Childers, which is the longest pairing of any current driver-crew chief combination. Since joining forces at Stewart-Haas Racing (SHR) in 2014, Harvick and Childers have combined to produce 30 points-paying victories, a victory in the non-points 2018 NASCAR All-Star Race at Charlotte (N.C.) Motor Speedway, 25 Busch poles, 115 top-five finishes and 166 top-10s while leading 10,248 laps. They won the 2014 championship, finished runner-up in the 2015 title chase to champion Kyle Busch, finished eighth in 2016 and third in 2017, 2018 and 2019.
· Harvick has career totals of 53 wins, 31 poles, 215 top-fives, 375 top-10s and 14,674 laps led in 698 starts.
· His most recent Cup Series win came on July 5 at the Indianapolis Motor Speedway.
· His most recent Busch Pole came in November 2019 at Texas Motor Speedway in Fort Worth.
· Harvick's 53 career victories put him 12th on the all-time NASCAR Cup Series wins list. He is third on the active driver list behind Jimmie Johnson and Busch. Harvick is just one win behind Lee Petty for 11th on the all-time wins list.
· At the Homestead-Miami Speedway season finale in 2019, Harvick became just the 11th driver to have led 14,000 laps in his NASCAR career. He's led 14,674 and trails 10th-place Busch, who has led 17,561, and Johnson, who is ninth with 18,933 laps led. Harvick has led 10,248 laps as an SHR driver. He led his 10,000th lap as an SHR driver when he took the lead on lap 37 on June 7 at Atlanta.
· Points Position: Harvick arrives at Kentucky first in the NASCAR Cup Series standings with 637 points, 85 markers ahead of second-place Chase Elliott. He's led the points since the conclusion of the March 8 race at Phoenix Raceway.
· Kentucky Numerology – Harvick has one top-five finish and six top-10s and has led a total of 128 laps in his nine career NASCAR Cup Series starts at the 1.5 mile oval. Kentucky and the Charlotte roval are the only two current Cup Series tracks where Harvick has yet to score a win. His average Kentucky start is 9.0, his average finish is 10.8.
· Harvick in the Xfinity Series at Kentucky: Harvick has six career starts in the Xfinity Series at Kentucky and has scored two wins, five top-fives and six top-10s. He scored wins in 2001 and 2014.
· Laps Completed: Harvick is 16th all-time in laps completed with 199,510 after Sunday's race at Indianapolis. He should break 200,000 laps completed in late July. He is the leader among active drivers and is closing in on Dale Earnhardt, who is 15th with 202,888.
· Already Playoff Bound – Harvick qualified for the 2020 Cup Series playoffs with his win May 17 at Darlington (S.C.) Raceway.
· Second-place: By finishing in second-place on June 29 at Pocono Raceway, Harvick now has 56 runner-up finishes and passed Buck Baker for ninth on the all-time list. He can tie Darrell Waltrip for eighth with another runner-up finish.
· 114 and Counting – Harvick scored his 100th career win in NASCAR's top three series with his March 2018 Las Vegas Motor Speedway win. He now has 114 total victories – 53 in the Cup Series, 47 in the Xfinity Series and 14 in the Truck Series. Only three other drivers in NASCAR history have passed 100 wins in NASCAR's top three series: Kyle Busch (211), Richard Petty (200) and David Pearson (106).
TIL NEXT TIME, I AM STILL WORKING ON MY REDNECK!