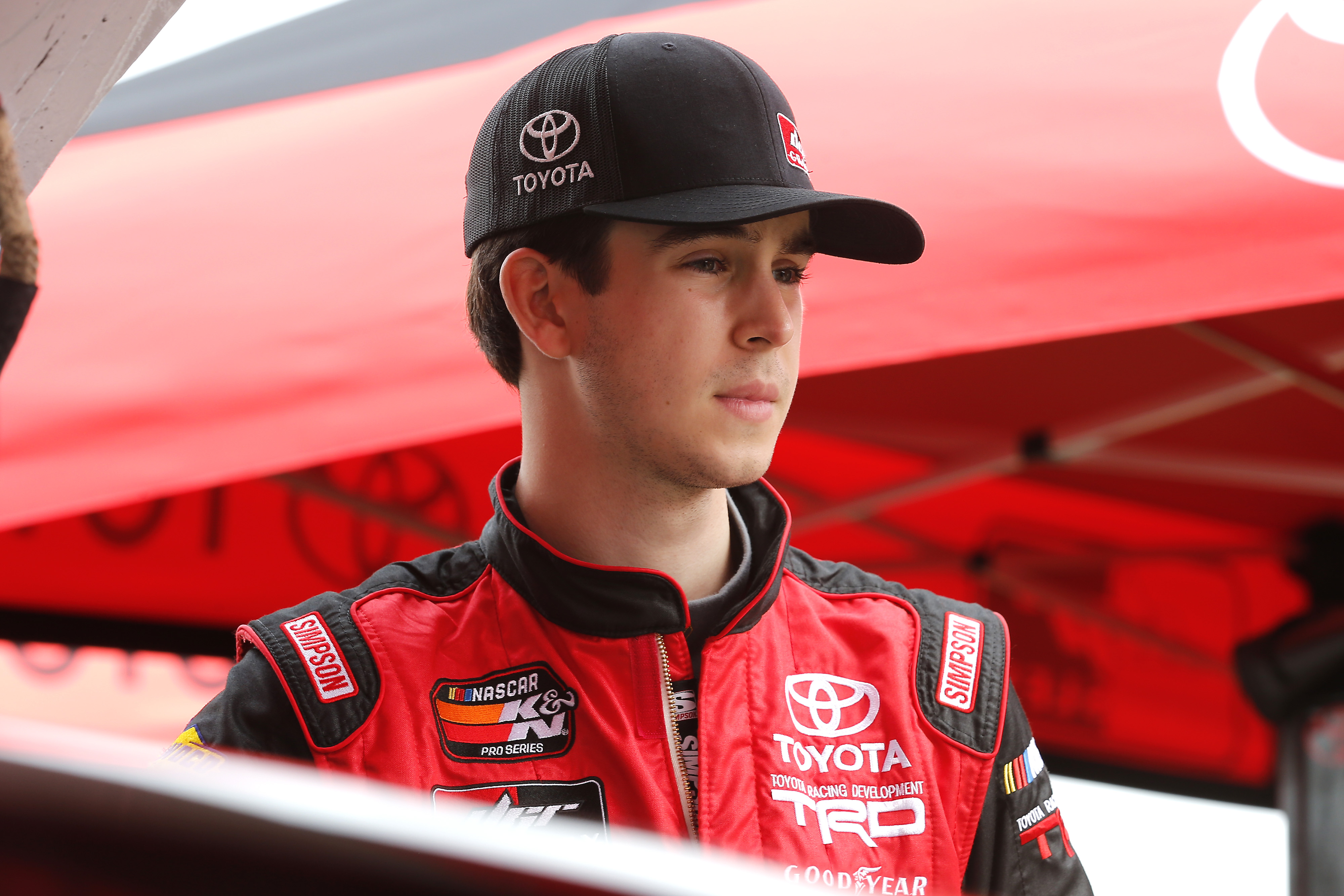 ARCA Menards Series
General Tire #AnywhereIsPossible 200
June 26, 2020
Race Highlights:
· The General Tire 200 was the fourth event of the 20-race season and the only stop at the Long Pond, Penn. Facility in 2020.
· Venturini Motorsports (VMS) fielded three Toyota Camry's: No. 15 Drew Dollar, No. 20 Chandler Smith and No. 25 Michael Self.
· With a condensed at-track schedule, officials held a 45-minite practice session Friday afternoon, allowing cars to hit the track for five-minutes in groups of five. At the end of their session Smith, Self and Dollar lined up first, second and ninth respectively.
· Qualifying was set off 2020 owner's points. Self would lead the field, followed by Dollar in third and Smith in fourth.
· Dollar made quick work at the start of the race, charging into the top-five shortly after the green flag flew. The race marked Dollar's first ever appearance at the "Tricky Triangle." Meanwhile up front, teammates Self and Smith, were battling for the lead before the first break of the day on lap-21.
· All three VMS cars utilized both breaks during the 80-lap race, to take four tires, fuel and a round of adjustments. With all three Toyota Camry's steadily racing between first and sixth, the sun started to set on the 2.5-mile triangle, changing the handling of the cars.
· Smith continued to work on chasing down the leader as Self and Dollar battled their way around the top-five mark.
· Checkered flag flying, No. 20 Chandler Smith came home second, No. 25 Michael Self fifth and No. 15 Drew Dollar sixth.
· On deck next for VMS is the ARCA Menards Series race at Lucas Oil Raceway on Friday, July 3rd. The team will field Toyota entries for: No. 15 Drew Dollar, No. 20 Chandler Smith and No. 25 Michael Self
Drew Dollar No. 15 Lynx Capital, Dollar Concrete Construction Company Toyota Camry
"We definitely had a lot of speed in our Toyota Camry this weekend at Pocono Raceway. I was really happy with the handling and look forward to getting to some more intermediate tracks this season. We fought a vibration the whole race that was causing the car to pop out of gear. Overall, it wasn't a horrible points day and I will just keep working to get better."
Start – 3 Finish – 6 Points – 2nd
Chandler Smith No. 20 JBL Toyota Camry
"I'm very happy to be back with my Venturini Motorsports team and piloting my No. 20 JBL Toyota Camry. Pocono (Raceway) was overall a good day for us, but we don't show up to finish second. So we have some work to do to be better. I am looking forward to going to Lucas Oil Raceway this coming weekend for some short track racing."
Start – 4 Finish – 2
Michael Self No. 25 Sinclair Oil, Champion Power Equipment Toyota Camry
"Little bit of a frustrating result for us given we were so strong early on. Pocono Raceway has been a hard track for me to figure out from a balance standpoint and the changes I requested during our last pit stop were just a little too aggressive, causing the car to get really tight throughout the final run. It was good to lead some laps and I feel like I learned a lot so Ill take that forward and really try to improve for the next time I race there. The Sinclair Oil crew did a great job building a really fast Toyota Camry , so we'll take that and move on to some track I'm more comfortable at."
Start – 1 Finish – 5 Points – 1st
TIL NEXT TIME, I AM STILL WORKING ON MY REDNECK!