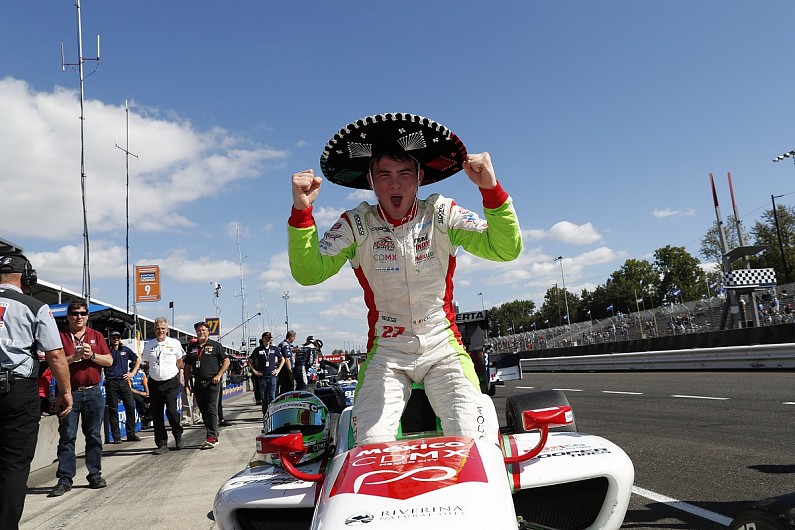 Patricio O'Ward has an inability to stand still.
The constant motion has proven a positive, though, with the NTT IndyCar Series rookie having already built an incredibly strong resume full of accolades at the age of 19.
The 2018 Indy Lights presented by Cooper Tires season belonged to O'Ward. He became the first Mexican-born product to capture the series championship. He followed that up by bursting onto the NTT IndyCar Series scene in his lone start at the season finale at Sonoma Raceway, where he qualified an impressive fifth and drove to a ninth-place finish with Harding Racing.
While anticipation grows as he returns to Harding Steinbrenner Racing for a full rookie campaign in 2019, the charismatic talent is already looking to use his platform and build his brand through a personal YouTube channel.
"Opening up a YouTube (channel) has always been something I've wanted to do, but never really came around to actually doing it," O'Ward said.
"Why? I feel like you can honestly find everything in YouTube now! So anything that has to do with me and things that I like, I want to have on there so people can go back and look at it whenever they want."
O'Ward began the new venture with "Behind the Visor," a 10-part series that gives fans an inside look of his Indy Lights title run that featured nine wins, 13 podiums, nine poles and 367 laps led over 17 races.
"I wanted to do something that gave an insight that fans couldn't see anywhere else," he said. "The feelings, expectations and, most importantly, all my emotions throughout the race weekends while fighting for a championship that was basically a make-or-break year. Basically, explain and show some of the unseen stuff that was never seen throughout the year."
One of the biggest motivating factors in starting the project was O'Ward's passion for cars and getting the chance as a professional driver to provide feedback and reviews of some of the most beautiful automobiles from around the world.
"The older I get, the more of an exotic car fanatic I am, so I'm still working on those supercar review type of videos," said O'Ward, the 2017 Prototype Challenge champion in the IMSA WeatherTech SportsCar Championship.
"Just being such a fan, I wanted to give an opinion on some of my favorite supercars and on some new supercars that will be coming out. They won't be insanely in-depth, just kind of a first impression and, most of all, just my opinion if the car is really worth what they are asking for price-wise, or it's over the top. Help people, guide them to making a right decision when making a big purchase like a McLaren 720S or Porsche GT3 RS and so forth. "
Admittedly partial to the Porsche GT3 RS, O'Ward concedes that the Ferrari 458 Speciale "doesn't fall far" from the top spot.
"They are such cool machines and the best thing is that they feel so alive," he added.
"Those are the ones I'm most excited to shoot because you can really tell the difference of energy I have in those versus like a turbo car or something more boring."
Amid it all, there is still much work to be done in preparation for his first full season in the NTT IndyCar Series. O'Ward has spent a good chunk of the offseason "trying to help the team find sponsors" and constantly working out.
"I think physically is a very big part of the preparation for next year," he said.
"The Indy car is a more demanding car, so I want to be sure I'm 100 percent ready so the physical aspect is the last thing I have to be worrying about in a race. I want to make sure I work as hard as I can this offseason to be as ready as possible because I know the season will be hard and what I'm trying to accomplish won't come easy at all, either."
O'Ward's Sonoma debut was just the first step in what looks to be a promising journey in INDYCAR. Even though there remains endless amounts of experience and information to absorb, that isn't changing his goal of bringing the fight on race weekends.
"There's so many things that I know I still have to learn, but Sonoma really gave me an insight of how an Indy car race is," he said. "So I'm actually super excited to start and to learn things I'm still kind of new on as quick as I can. I know expectations are high after my Sonoma debut and my personal expectations are high as well, so I want to accomplish some big goals and I know I can with hard work and dedication."
Before he embarks on the NTT IndyCar Series season, O'Ward is among a select number of INDYCAR drivers participating in this weekend's Race Of Champions in his native Mexico. The event takes place at the Foro Sol amphitheater that is part of the Autodromo Hermanos Rodriguez road course where Indy cars once raced and Formula One currently competes.
Racing in a variety of identically prepared vehicles, O'Ward is faced with a tough draw in the individual "Champion of Champions" competition set for Sunday. He is grouped with Le Mans legend Tom Kristensen and retired F1 great David Coulthard in a round robin setup, with only the top two advancing to the quarterfinal round.
Team Penske drivers Josef Newgarden and Helio Castroneves are in a first-round group that includes world rallycross champion Johan Kristofferson and Formula E champ Lucas di Grassi. Andretti Autosport's Ryan Hunter-Reay is in a group that includes former INDYCAR and F1 driver Esteban Gutierrez.
Nations Cup competition is set for Saturday, with O'Ward representing Team Mexico, Newgarden and Hunter-Reay raising the flag for Team USA and Castroneves driving for Team Brazil.
TIL NEXT TIME, I AM STILL WORKING ON MY REDNECK!