Clint Bowyer has a strategy for both of the major events in his life this week.

Before he drives the No. 14 Rush Truck Centers/Mobil Delvac 1 Ford in the Monster Energy Cup Series 500-mile race Sunday at Texas Motor Speedway in Fort Worth, he and wife Lorra will make sure son Cash, 4, and daughter Presley, 1, enjoy Halloween Wednesday night near their Mocksville, North Carolina home.

"It's a big week at our house," Bowyer said with a laugh. "Halloween is all about having fun with your kids and trying to get more candy than the next guy. It is about the competition. Leave it to a racer to make Halloween a competition, too."

After the sugar high wears off, it's off to Texas for the second of three Round of 8 playoff races, where the stakes couldn't be much higher. He'll need to finish well among the eight playoff drivers at Texas Sunday in order to stay in the hunt for one of the four transfer positions to be determined next weekend at ISM Raceway near Phoenix. The top four in points will advance to the winner-take-all season finale at Homestead-Miami Speedway.

Bowyer arrives at the 1.5-mile Texas track after qualifying second and finishing 21st at Martinsville (Va.) Speedway last Sunday. The finish left Bowyer seventh in the standings, 42 points outside the fourth and final transfer position. Now he turns his attention to Texas, where he qualified third and ran as high as fourth in the April race before a late-race incident left him with a ninth-place finish. In 25 career races at Texas, he owns three top-five finishes and 11 top-10s.

"We know what we have to do in Texas," Bowyer said. "We dug ourselves a hole at Martinsville and we'll have to climb out of it. Texas is a tough, tough track. The racetrack, since the repave, is not so much fun but it is a challenge. Within those challenges, you have to be open-minded and excited about that challenge and ready to attack it. You definitely have to attack it. It is a track that the grip level is through the roof until it's not. It is very tricky to get ahold of."

Bowyer's No. 14 Ford will carry the Rush Truck Centers/Mobil Delvac 1 paint scheme this weekend in Texas.

Rush Truck Centers has been the primary partner on the No. 14 team since Bowyer arrived at SHR in 2017 and has been with the organization since 2010. The San Antonio, Texas-based company has used Bowyer and the team to appeal to NASCAR fans as one way to recruit the technicians it needs to operate the largest network of commercial truck and bus dealerships in the country, with locations in 22 states. According to Rush Truck Centers, the trucking industry is expected to need 200,000 diesel technicians over the next 10 years to keep up with maintenance demands.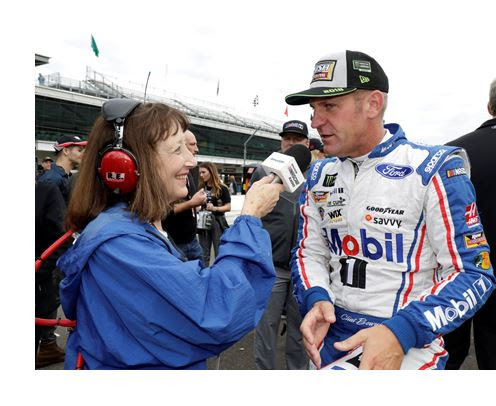 Mobil 1 plays an integral role in SHR's success. Mobil 1's lubricant technology helps to reduce frictional loss in his Ford engines to maximize fuel mileage, increase horsepower and turn more rpm, providing an advantage over his competitors. Mobil 1 also helps reduce friction in suspension components, providing maximum tire grip as well as helping to reduce steering compliance to give its teams an edge behind the wheel. Not only does Mobil 1 help improve the on-track efficiency of SHR, but the on-track testing helps lead to new lubricant technology developments such as Mobil 1 Annual Protection, which allows drivers to travel up to 20,000 miles, or one full year, between oil changes.
In its 16th consecutive season as the "Official Motor Oil of NASCAR," Mobil 1 is used by more than 50 percent of teams throughout NASCAR's top three series. Trusted by many of the world's leading heavy-duty original equipment manufacturers, Mobil Delvac commercial vehicle lubricants are used across a broad range of industries
Bowyer is part of a four-Ford SHR contingent that put all four of its drivers in the Round of 8 – the only team to do so in 2018. SHR owns 11 victories and each of its four drivers has visited victory lane in 2018.
Bowyer hopes he can add to those numbers Sunday at Texas. A victory in the Lone Star state will be the best Trick or Treat week ever in the Bowyer household.
CLINT BOWYER, Driver of the No. 14 Rush Truck Centers/Mobil Delvac 1 Ford Fusion for Stewart-Haas Racing:
What is it like to be part of all four SHR cars in the Round of 8?
"A total team effort across the board is the reason you have all four cars in the Round of 8. We have half of the battle. I think that, because of the willingness to cooperate with one another from a driver standpoint and the willingness to work with one another from the crew chiefs, engineering and everything involved, the teamwork is what makes the dream work. I think that is a quote somewhere.
"The manufacturer at Ford, everything, it is the total package right now. It is a ton of fun to be on a team like that, an organization like that, with teammates like I have. You come every week and we have just as good a shot as anybody. Our cars are capable of getting the job done every single weekend no matter the conditions or what track we are at or anything in-between. I am very proud of that.
"You roll into the shop on Tuesday and the first thing I do, the goofball I am, is grab the receptionist intercom and thank everybody and tell them what a good job they are doing and how much fun it is to drive their cars. It really is an honor to be able to drive for an organization like this with the effort that is going on."
What do you think of Texas?
"I always like going to Texas. It is a lot of fun. Hardest thing there is balancing a little fun and your job. Everything is more fun in Texas."
No. 14 Rush Truck Centers/Mobil Delvac 1 Team Report
Round 34 of 36 – AAA Texas 500 – Texas
Car No.: 14 – Rush Truck Centers/Mobil Delvac 1 Ford Fusion for Stewart-Haas Racing
At Track PR Contact: Drew Brown with True Speed Communication (704-498-7596 or Drew.Brown@TrueSpeedCommunication.com)
No. 14 At-Track Crew Roster
Primary Team:

Driver: Clint Bowyer

Residence: Emporia, Kansas

Crew Chief: Mike Bugarewicz

Hometown: Lehighton, Pennsylvania

Car Chief: Jerry Cook

Hometown: Toledo, Ohio

Engine Specialist: Matt Moeller

Hometown: Monroe, New York

Engine Builder: Roush Yates Engines: Mooresville, North Carolina

Spotter: Brett Griffin

Hometown: Pageland, South Carolina

Over-The-Wall Crew:

Front Tire Changer: Ira Joe Hussey

Hometown: Manchester, New Hampshire

Rear Tire Changer: Shannon Myers

Hometown: Salisbury, North Carolina

Tire Carrier: Matt Holzbaur

Hometown: New Egypt, New Jersey

Gas Man: James "Ace" Keener

Hometown: Fortuna, California

Jackman: Ernie Pierce

Hometown: San Diego, California

Windshield: Chris Trickett

Hometown: Grafton, West Virginia

Road Crew:

Truck Drivers: William "Stump" Lewis and Rob Fink

Hometown: Linkwood, Maryland and Baltimore, Maryland, respectively.

Engineers: Lee Deese and Chris Chidgey

Hometown: Rockingham, North Carolina and Gainesville, Florida, respectively.

Mechanics: Tony Silvestri and Rich Letendre

Hometown: Sylvania, Ohio and Lowell, Massachusetts, respectively

Tire Specialist: Russell Simpson

Hometown: Medford, New York

Shock Specialist: Wayne Smith

Hometown: Melbourne, Australia
Bowyer owns career totals of 10 wins, two poles, 73 top-five finishes, 195 top-10s and 2,850 laps led in 466 Monster Energy NASCAR Cup Series races. He also owns eight Xfinity Series victories.

His most recent Cup Series victory came at Michigan International Speedway in Brooklyn (June 10, 2018).
His most recent Cup Series pole came at New Hampshire Motor Speedway in Loudon (Sept. 16, 2007).
The 2018 season marks the 10th anniversary of Stewart-Haas Racing (SHR). The Kannapolis, North Carolina-based team is co-owned by Tony Stewart and Gene Haas and has recorded 50 points-paying victories and 43 poles since its inception in 2009. It also owns three non-points victories in the Cup Series and two Xfinity Series victories. Stewart won the 2011 NASCAR Cup Series title, and Kevin Harvick gave SHR its second title in 2014. SHR's Kurt Busch won last year's Daytona 500. Harvick has won seven times in 2018, while Bowyer owns two victories and Aric Almirola and Busch one each this season. All four SHR drivers have won races in 2018 and advanced to the Round of 8 of the Cup Series playoffs.
Bowyer has led 490 laps in 2018. That surpasses a career best of 400 set in 2010.
SHR has six poles, two points-paying victories (Stewart in November 2006 and Harvick November 2017), nine top-five finishes and 22 top-10s in 58 starts at Texas.
Bowyer at Texas in April: Bowyer started third in the O'Reilly Auto Parts 500 at Texas Motor Speedway in Fort Worth, but a loose-handling car dropped him to sixth by the end of the first stage. Adjustments made in the stage break paid off as the No. 14 climbed to fifth by the end of the second stage. He avoided a seven-car accident that began the final stage and climbed to fourth with 80 laps remaining. However, another car pushed him out of the groove, dropping the No. 14 to 11th. An untimely caution dropped him off the lead lap, but he was able to make up the deficit and climbed to ninth before the checkered flag fell. SHR posted its 1,000th start with that race.
​SHR & Off-Weekends: There are only three off weekends on the 2018 Monster Energy NASCAR Cup Series calendar and SHR has won the week before each. Bowyer won the week before each of the first two. His March 26 victory at Martinsville (Va.) Speedway preceded the first off weekend, and his June 10 victory at Richmond (Va.) Raceway preceded the second off weekend. Busch made it a trifecta by winning Aug. 18 at Bristol. The next off weekend is after the conclusion of the 2018 season at Homestead-Miami (Fla.) Speedway.
All-Time Victory List: Bowyer's 10 career victories put him in a 59th-place tie on the all-time wins list with Donnie Allison and Sterling Marlin.
Crew chief Mike "Buga" Bugarewicz is in his third season as a Cup Series crew chief. He oversaw Stewart's final campaign in 2016 and his pit strategy played a key role in Stewart's victory at Sonoma in June 2016. Bugarewicz and Bowyer's first season together in 2017 saw the duo post the 11th-best average finish of all full-time teams. In 2018 they earned their first victory together winning at Martinsville (Va.) Speedway in March. His two-tire call minutes before a caution combined with Bowyer's aggressive driving at Michigan last Sunday earned the duo its second victory of the 2018 season. The Lehighton, Pennsylvania native served as the lead engineer on SHR's No. 4 entry in 2014 and 2015. The Penn State University graduate was the only rookie crew chief to be part of the Cup Series playoffs in 2016.
Buga Calls: Bugarewicz has made two race-winning strategy calls in his career at SHR. In 2016 at Sonoma (Calif.) Raceway, Bugarewicz pitted Stewart from midpack before most of the leaders made their final stop of the race. A caution a few laps later moved Stewart to the front of the field, allowing the three-time champion to put on a classic driving display in a closing-laps battle with Denny Hamlin to win his 49th and final Cup Series race. At Michigan in June, he called for a two-tire stop when the rest of the leaders did four, moving Bowyer from third place to first. Bowyer held off a hard-charging Harvick for the win.
Bowyer's Hometown of Emporia, Kansas is about a 90-minute drive southwest of Kansas Speedway. Emporia, with a population of 25,000, is home to Emporia State University and Flint Hills Technical College. In 1953, Emporia was the site of the first Veterans Day observance in the United States. At the urging of local shoe cobbler Alvin J. King, U.S. Representative Edward Rees introduced legislation in The United States Congress to rename Armistice Day as Veterans Day. President Dwight D. Eisenhower signed the bill into law on Oct. 8, 1954.
Bowyer's Paternal Grandfather: Dale E. Bowyer was a 1st Lieutenant in the United States Army. He won the Purple Heart, Bronze Star and Distinguished Service Cross for extraordinary heroism while fighting the armed enemy in Germany during World War II. The Distinguished Service Cross is the second-highest military decoration that can be awarded to a member of the United States Army. It is awarded for extraordinary heroism. While leading his platoon under heavy fire in an attack near Sinz, Germany, on Jan. 25, 1945, Lt. Bowyer was severely wounded by an enemy mine. He refused evacuation even though both feet were shattered. He shouted instructions and encouragement where he lay. Inspired by his bravery, the men re-formed, moved clear of the mine field and continued the advance. Only then did Lt. Bowyer allow himself to be evacuated, crawling clear of the mine field to avoid injury to people. "His devotion to duty and to his men, and his courage and fearless determination, are in keeping with the highest traditions of the military service," read the commendation he received. Lt. Bowyer eventually lost a leg due to his injuries. After his career in the Army, he lived in Iola, Kansas, and worked in the dairy business. He passed away in June 1974. Bowyer never met his grandfather.
Bowyer's win at Michigan in June was the 44th overall NASCAR Cup Series win for the No. 14 since 1949. In addition to Bowyer's two victories, Tony Stewart owns 16 victories, Fonty Flock won 14 races in the No. 14, including the first for the number at Occoneechee Speedway in Hillsborough, North Carolina in April 1951. Three other drivers have scored wins in the No. 14: Jim Paschal with seven, Herschel McGriff with four, and Bobby Allison with one.
Bowyer's Top-Three Finishes at SHR (2017-2018):

Wins

Michigan International Speedway (June 10, 2018)
Martinsville (Va.) Speedway (March 26, 2018)

2nd place: 

Talladega (Ala.) Superspeedway (Oct. 15,2018)
Dover (Del.) International Speedway (May 6, 2018)
Bristol (Tenn.) Motor Speedway (April 24, 2017)
Sonoma (Calif.) Raceway (June 25, 2017)
Daytona (Fla.) International Speedway (July 1, 2017)

3rd place: 

Charlotte Motor Speedway Roval (Sept. 30, 2018)
Sonoma (Calif.) Raceway (June 24, 2018)
Atlanta Motor Speedway (Feb. 25, 2018)
Auto Club Speedway in Fontana, California (March 26, 2017)
Martinsville (Va.) Speedway (Oct. 29, 2017)
​Bowyer's Stage Victories 

Pocono (Pa.) Raceway Stage 2 (July 30, 2017)
Indianapolis Motor Speedway Stage 1 (Sept. 10, 2018)
Bowyer Cup Series Career Victories:

Michigan International Speedway (June 10, 2018)
Martinsville (Va.) Speedway (March 26, 2018)
Charlotte (N.C.) Motor Speedway (Oct. 13, 2012)
Richmond (Va.) International Raceway (Sept. 8, 2012)
Sonoma (Calif.) Raceway (June 24, 2012)
Talladega (Ala.) Superspeedway (Oct. 23, 2011)
Talladega (Ala.) Superspeedway (Oct. 31, 2010)
New Hampshire Motor Speedway in Loudon (Sept. 19, 2010)
Richmond International Raceway (May 3, 2008)
New Hampshire Motor Speedway in Loudon (Sept. 16, 2007)
Bowyer Cup Series Career Poles:

New Hampshire Motor Speedway in Loudon (Sept. 14, 2007)
Darlington (S.C.) Raceway (May 11, 2007)
​Bowyer Career Cup Series Points Finishes:

2017 18th
2016 27th
2015 16th
2014 19th
2013 7th
2012 2nd
2011 13th
2010 10th
2009 15th
2008   5th
2007   3rd
2006 17th
Bowyer Cup Series Career Stops:

2017- Present Stewart-Haas Racing
2016  HScott Motorsports
2012-2015  Michael Waltrip Racing
2006-2011 Richard Childress Racing
Bowyer Xfinity Series Championship:
Bowyer Xfinity Series Career Victories:

Dover (Del.) International Speedway (Sept. 26, 2009)
Daytona (Fla) International Speedway (July 3, 2009)
Bristol (Tenn.) Motor Speedway (March 15, 2008)
Richmond (Va.) International Raceway (May 4, 2007)
Phoenix (Ariz.) International Raceway in Avondale (April 20, 2007)
Dover (Del.) International Speedway (Sept. 23, 2006)
Memphis (Tenn.) Motorsports Park  (Oct. 22, 2005)
Nashville (Tenn.) Superspeedway (June 12, 2005)
Bowyer Camping World Truck Series Victories:

Kansas (Kan.) Speedway in Kansas City (June 4, 2011)
Phoenix (Ariz.) International Raceway in Avondale (Nov. 12, 2010)
Texas Motor Speedway in Fort Worth (Nov. 3, 2006)
TIL NEXT IME, I AM STILL WORKING ON MY REDNECK!