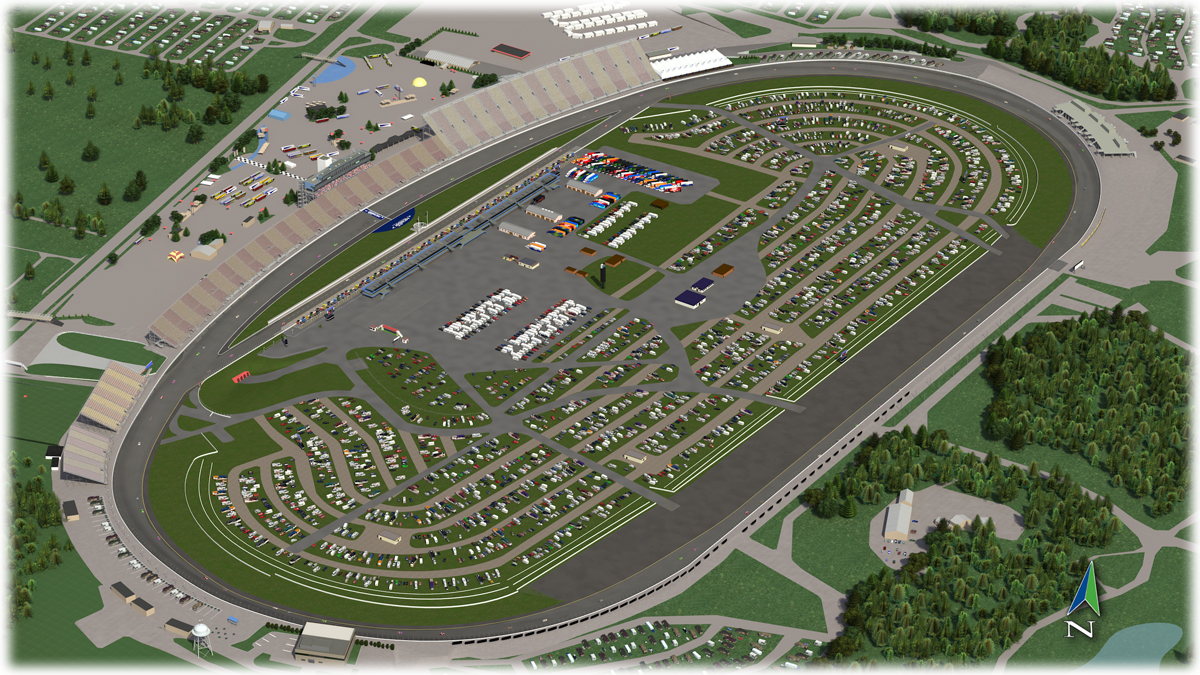 Michigan International Speedway is a two-mile moderate-banked D-shaped speedway located off U.S. Highway 12 on more than 1,400 acres approximately four-mile south of the village of Brooklyn, in the scenic Irish Hills area of southeastern Michigan. The track is used primarily for NASCAR events. It is sometimes known as a "sister track" to Texas World Speedway, and was used as the basis of Auto Club Speedway. The track is owned by International Speedway Corporation (ISC). Michigan International Speedway is recognized as one of the motorsports' premier facilities because of its wide racing surface and high banking (by open-wheel standards; the 18-degree banking is modest by stock car standards). Michigan is the fastest track in NASCAR due to its wide, sweeping corners, long straightaways, and lack of a restrictor plate requirement; typical qualifying speeds are in excess of 200 mph and corner entry speeds are anywhere from 215 to 220 mph after the 2012 repaving of the track.
Groundbreaking took place on September 28, 1967. Over 2.5 million cubic yards of dirt were moved to form the D-shaped oval. The track opened in 1968 with a total capacity of 25,000 seats. The track was originally built and owned by Lawrence H. LoPatin, a Detroit-area land developer who built the speedway at an estimated cost of $4–6 million. Financing was arranged by Thomas W Itin. Its first race took place on Sunday, October 13, 1968, with the running of the USAC 250 mile Championship Car Race won by Ronnie Bucknum.
In 1972, Roger Penske purchased the speedway for an estimated $2 million. During Penske's ownership, the track was upgraded several times from the original capacity to 125,000 seating capacity. From 1996 to 2000, the track was referred to as Michigan Speedway. This was to keep consistency with other tracks owned by Roger Penske's Motorsports International before its merger with ISC.
In 1999, the speedway was purchased by International Speedway Corporation (ISC), the NASCAR France family controls this company, and in 2000 the track was renamed to its original name of Michigan International Speedway. In 2000 10,800 seats were added via a turn 3 grandstand bringing the speedway to its current capacity. In 2004-2005 the largest renovation project in the history of the facility was ready for race fans when it opened its doors for the race weekend. The AAA Motorsports Fan Plaza—a reconfiguration of over 26 acres behind the main grandstand—provided race fans a new and improved area to relax and enjoy sponsor displays, merchandise, and concessions during breaks of on-track activity. A new, three-story viewing tower housing the Champions Club presented by AAA and 16 new corporate suites also awaited VIP guests, while a state-of-the-art press box and an expansive race operations facility high above the two-mile oval welcomed the media and race officials.
Michigan was repaved prior to the 2012 season. This marks the first time since 1995 that the oval was resurfaced, along with 1967, 1975, and 1986. Also new for 2012 was the addition of a new 20-space trackside luxury campsite to be known as APEX. Situated in turn 3, each site will offer a 20-by-55-foot area, with water and electric hookups, a picnic table, and grill. Besides front-row seating for the racing action, the APEX area will offer personalized service to its guests, including a concierge to address any of their needs.
Now you know the rest of the story!
TIL NEXT TIME, I AM STILL WORKING ON MY REDNECK!