The sound of 40 Monster Energy NASCAR Cup Series stock cars rumbling around the 2.5-mile Daytona (Fla.) International Speedway during the 60th running of the Daytona 500 on Feb. 18 will be augmented by 500 fans cheering in unison to toast the start of the 2018 racing season.
The iconic #BUSCHHHHH harmony will echo throughout the World Center of Speed as 500 guests of Busch beer take in the Great American Race after meeting Kevin Harvick, the 2014 NASCAR Cup Series champion and the driver of the No. 4 Busch Ford Fusion for Stewart-Haas Racing.
Earning a chance to join this exclusive group is easy:
Find a checkered flag can in specially marked 18, 24 and 30 packages of limited-edition Busch and Busch Light, or download the can wrap at www.Busch.com.
Take a photo or video celebrating like you're in victory lane with your checkered can or can wrap.
Share your photo or video using any of the methods below:

On Instagram and Twitter, enter by posting your photo or video with #BuschToDaytona and #Contest from a public account.
On Facebook, enter by posting your photo or video with #BuschToDaytona and #Contest on Busch's wall, comments or by direct message.

For California residents, use #BuschToDaytonaCA and #Contest2.
Busch received a lot of love from consumers last year when it introduced the Busch Guy in the brand's first-ever Super Bowl commercial. In 2018, Busch is rewarding its loyal drinkers who have been dedicated brand fans from the start. Two hundred and fifty winners will be chosen, and each will be able to invite one lucky friend for an all-inclusive trip3 to the Daytona 500. Busch will take care of travel, lodging and meals. It's Daytona done right.
"The Daytona 500 is the biggest race of the year, so we decided to make '500 to the 500' our biggest promotion of the year," said Chelsea Phillips, Vice President of Value Brands at Anheuser-Busch. "It's the race that kicks off the whole season, and the lead up to the Daytona 500 makes it one of the most anticipated events in all of sports. It's the Super Bowl of racing. The weather will be warm, the Busch will be cold, and Kevin Harvick will be out front. We'll get to enjoy all of it with 500 of our most passionate fans."
Harvick won the 2007 Daytona 500 and his 37 career NASCAR Cup Series victories has him tied for 17th on the all-time series win list with NASCAR Hall of Famer Bobby Isaac.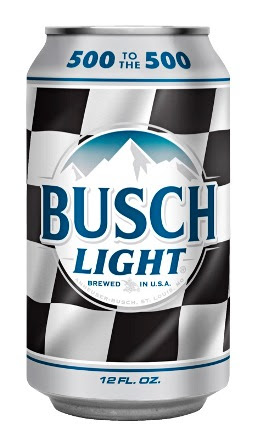 "The Daytona 500 is the biggest race we run every year," Harvick said. "You always hear about people who say winning the Daytona 500 isn't like winning any other race – and it's not – it's the Daytona 500. After you win it and you see all the things that come with it, you learn very quickly that the Daytona 500 is special. It means a lot to this sport, and it's an honor to have my name on the Harley J. Earl trophy. With 500 of our biggest Busch fans at this year's Daytona 500, a win just might make for the biggest victory party Daytona has ever seen."
Busch is in its third year as a primary partner of Harvick and Stewart-Haas Racing, extending its storied NASCAR history. Busch first became involved in NASCAR in 1978 when it sponsored the Busch Pole Award. The brand has been engrained in the sport ever since, introducing the Busch Clash in 1979, serving as the title sponsor of NASCAR's stepping-stone division to the Cup Series from 1984 through 2007, as well as being the "Official Beer of NASCAR" from 1988 through 1997.
For more information on Busch or its involvement with racing, visit www.Busch.com,www.Instagram.com/BuschBeer, www.Twitter.com/BuschBeer or www.Facebook.com/Busch.
1 See official rules at www.busch.com for entry, California entry, prizes and details.
2 Checkered can and checkered can wrap is not part of the entry for California residents.
3 See official rules at www.busch.com for entry, California entry, prizes and details. 
About Busch Beer:
Busch was introduced in 1955, holding a noted place in Anheuser-Busch history as the first new brand after the repeal of Prohibition. Busch Light and Busch are currently the sixth and 10th best-selling beers in America, respectively.
About Anheuser-Busch:
For more than 160 years, Anheuser-Busch and its world-class brewmasters have carried on a legacy of brewing America's most-popular beers. Starting with the finest ingredients sourced from Anheuser-Busch's family of growers, every batch is crafted using the same exacting standards and time-honored traditions passed down through generations of proud Anheuser-Busch brewmasters and employees. Best known for its fine American-style lagers, Budweiser and Bud Light, the company's beers lead numerous beer segments. Budweiser and Bud Light Lime Lime-A-Rita were named Brands of the Year for the Beer and the Spirits, Malt Beverages and Wine categories, respectively, by Ace Metrix® in 2014. Anheuser-Busch is the U.S. arm of Anheuser-Busch InBev and operates 17 local breweries, 21 distributorships and 23 agricultural and packaging facilities across the United States. The company committed to investing more than $1.5 billion in its U.S. brewing, agriculture, packaging and distributing operations by 2018. Its flagship brewery remains in St. Louis, Missouri, and is among the global company's largest and most technologically-capable breweries. Visitor and special beermaster tours are available at its St. Louis and five other Anheuser-Busch breweries. For more information, visit www.anheuser-busch.com.
About Stewart-Haas Racing:
Stewart-Haas Racing is the title-winning NASCAR team co-owned by three-time Monster Energy NASCAR Cup Series champion Tony Stewart and Gene Haas, founder of Haas Automation – the largest CNC machine tool builder in North America. The organization fields four entries in the Monster Energy NASCAR Cup Series – the No. 4 Ford Fusion for Kevin Harvick, the No. 10 Ford Fusion for Aric Almirola, the No. 14 Ford Fusion for Clint Bowyer and the No. 41 Ford Fusion for Kurt Busch. The team also competes in the NASCAR XFINITY Series by fielding a full-time entry – the No. 00 Ford Mustang for Cole Custer – and one part-time entry – the No. 98 Ford Mustang. Based in Kannapolis, North Carolina, Stewart-Haas Racing operates out of a 200,000-square-foot facility with nearly 370 employees. For more information, please visit us on the Web at www.StewartHaasRacing.com, on Facebook at www.Facebook.com/StewartHaasRacing, on Twitter@StewartHaasRcng, and on Instagram @StewartHaasRacing.
TIL NEXT TIME, I AM STILL WORKING ON MY REDNECK!