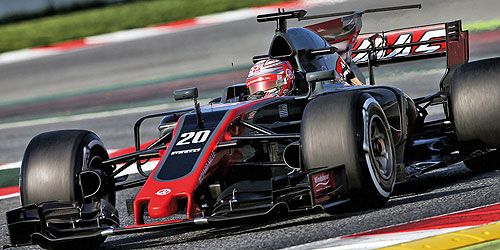 Event:  Brazilian Grand Prix (Round 19 of 20)
Date:  Sunday, Nov. 12
Location:  Autódromo José Carlos Pace in São Paulo
Layout:  4.309-kilometer (2.677-mile), 15-turn circuit
Weather:  Sunny
Air Temps:  27.6-30.4 degrees Celsius (81.7-86.7 degrees Fahrenheit)
Track Temps:  54-60 degrees Celsius (129.2-140 degrees Fahrenheit)
Race Winner:  Sebastian Vettel of Scuderia Ferrari
Haas F1 Team:
● Romain Grosjean – Started 11th, Finished 15th (Running, completed 69/71 laps)
● Kevin Magnussen – Started 13th, Finished 20th (Accident, completed 0/71 laps)
Haas F1 Team endured a difficult Brazilian Grand Prix with drivers Romain Grosjean and Kevin Magnussen finishing 15th and 20th, respectively, in the penultimate round of the 2017 FIA Formula One World Championship.
The race came undone for the American squad on the first lap around the Autódromo José Carlos Pace in São Paulo. In turn three of the 4.309-kilometer (2.677-mile), 15-turn circuit, Magnussen made contact with the McLaren of Stoffel Vandoorne, sending both cars out of the race. Then a few moments later in turn six, Grosjean spun off the track as he attempted to defend his position from the Force India of Esteban Ocon.
Grosjean was able to continue, albeit last among the 17 drivers still running, with Ocon joining Vandoorne and Magnussen on the sidelines. When Brendon Hartley retired his Toro Rosso after 40 laps, Grosjean inherited 16th, and when Lance Stroll was forced to pit his Williams on lap 67 of the 71-lap race for a new set of tires, Grosjean picked up 15th.
Winning the Brazilian Grand Prix was Sebastian Vettel. The Scuderia Ferrari driver scooted past the pole-winning Mercedes of Valtteri Bottas in turn one and never looked back to earn his 47th career Formula One victory, his fifth of the season and third at Interlagos. Vettel's margin of victory over second-place Bottas was 2.762 seconds.
Nineteen rounds into the 20-race Formula One schedule, Haas F1 Team remains eighth in the constructors standings with 47 points, two points behind seventh-place Renault and six points behind sixth-place Toro Rosso with a 19-point cushion over ninth-place McLaren. Grosjean is 13th in the championship standings with 28 points and Magnussen is 14th with 19 points.
Only one race remains with the season-ending Abu Dhabi Grand Prix set for Nov. 24-26 at Yas Marina Circuit.
"The only thing I can say about the opening lap is that I got massively hit in turn one. I believe I had a puncture on the rear left. I got to turn six and lost the car, and I think it was just the puncture. Getting a penalty on top of that – I'm not super happy with it. I want to see the footage. The positive from the race is that the last stint on the supersoft, the car felt amazing. Even though we had massive floor damage, it felt really good. We now need to understand why it felt so good and move on to Abu Dhabi."
"I really need to study the replay. From my side, we were three-wide through the corner. There was contact with (Stoffel) Vandoorne who then had contact with (Daniel) Ricciardo. I broke my front suspension, so it wasn't the best. If I'd realized earlier that Ricciardo was on the outside of Vandoorne, then perhaps I'd have given more room, but by the time I saw Ricciardo it was too late. I'd already carried the speed. It's tough and very frustrating when it happens, but that's racing."
"It was a disappointing result. At the beginning, our cars and drivers were motivated enough to do better than this, but it all went down on lap one. Racing accidents happen. With Kevin, he tried to do his best, but it just happened in turn one. Romain, as well, went off, and in addition to that – after he was penalized already with the incident – he got another time penalty. I don't agree with it. Anyway, it didn't reflect in the result because we were in no position to get points. We move on to Abu Dhabi and see if we can make up for it there."
The final round of the 2017 FIA Formula One World Championship is the Abu Dhabi Grand Prix at Yas Marina Circuit. Practice begins Nov. 24, qualifying takes place Nov. 25 and the race runs Nov. 26.
TIL NEXT TIME, I AM STILL WORKING ON MY REDNECK!