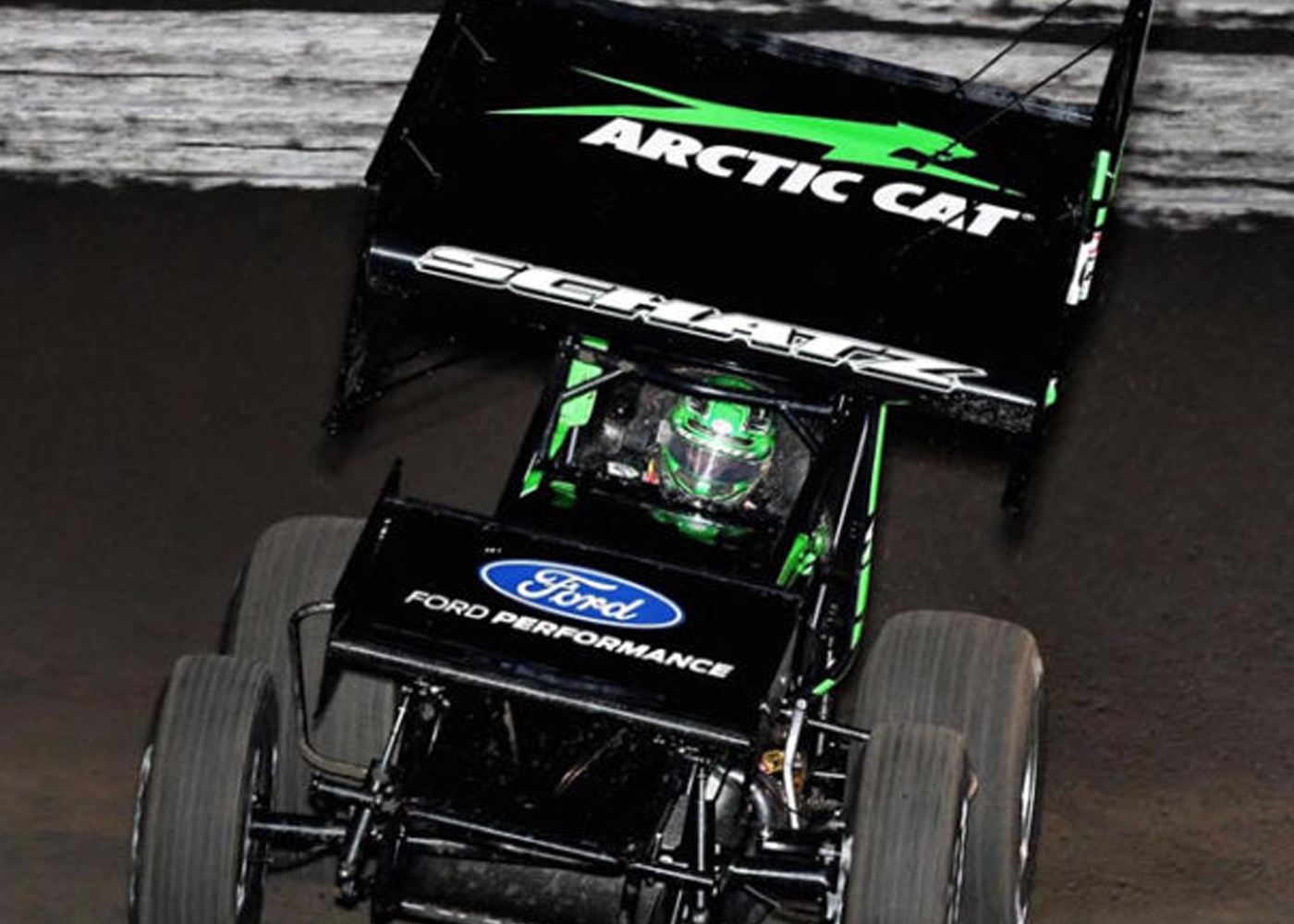 Dates: Friday, Oct. 20, 2017

Saturday, Oct. 21, 2017

Series: World of Outlaws Craftsman Sprint Car Series

Locations: Friday – Lakeside Speedway in Kansas City, Kansas

Saturday – Salina (Okla.) Highbanks Speedway

Winners: Friday – Brian Brown of Brian Brown Racing

Saturday – Kerry Madsen of Big Game Motorsports

TSR Results: Friday – Started 12th, Finished 3rd/Running, completed 30 of 30 laps

Saturday – Started 6th, Finished 2nd/Running, completed 30 of 30 laps

TSR Points: Donny Schatz – (1st with 11,114 points, 172 ahead of second-place Brad Sweet)

The World of Outlaws (WoO) Craftsman Sprint Car Series staged a pair of exciting races this past weekend as the traveling Sprint-car stars returned to Kansas and Oklahoma. Tony Stewart-Curb/Agajanian Racing (TSR) driver Donny Schatz led the series back to the Heartland for the first time since August and put on a pair of thrilling charges, scoring a third-place finish Friday night at Lakeside Speedway in Kansas City, Kansas and a runner-up finish Saturday at the Salina (Okla.) Highbanks Speedway. The driver of the TSR No. 15 Textron Off Road/Arctic Cat/Ford Performance/Curb J&J inched closer to a ninth Outlaw championship with his 43rd and 44th podium finishes of the 2017 season.

"We continue to remain focused and fighting for every win and every point we can earn during these last few weeks," said Schatz, who holds a 172-point advantage over Kasey Kahne Racing's Brad Sweet in the championship chase following the weekend. "With only four races remaining, we know there is still a lot on the line. We got behind a little bit Friday night in qualifying at Lakeside and just kept digging. We had some representatives from Textron out there supporting us Friday and we always appreciate having them at the track. We were hoping to get win number 20 and did everything we could. We were in a little better position Saturday at Salina, but that late restart made things interesting. The goal is to be in a position to battle for wins and, both nights, we were up there with the leaders. We'll see if we can repeat that this weekend at Dodge City and maybe improve our finish by a position."

Schatz traveled to Lakeside for his 12th career appearance at the half-mile dirt oval and ended up posting the 12th-fastest lap during qualifying in the field of 35 cars. The eight-time and reigning WoO champion made his bid for a spot in the Craftsman Club Dash during heat four after starting third. Passing was at a premium during heat-race action and Schatz followed front-row starters Sheldon Haudenschild and Daryn Pittman to the finish in the eight-lap race. He started the 30-lap A-Feature outside row six and raced just inside the top-10 during the early stages of the race. Hometown favorite Brian Brown paced the race for the first seven laps before Kerry Madsen took command. The No. 15 came on strong midway through the race as Schatz climbed from ninth to inside the top-five. Following a caution for Madsen on lap 20, Schatz was able to move past Haudenschild for second, but he couldn't hold the position. Brown held the lead during the final 10 laps and raced to his second WoO victory of the season ahead of Haudenschild and Schatz.

The weekend continued with Saturday's race in Northeast Oklahoma. With threatening weather approaching, WoO officials pushed the program along and Schatz was quick from the onset. He qualified fifth in the field of 23 cars and dominated the second heat to earn a spot in the dash. He finished sixth in the six-lap dash and started the 30-lap A-Feature outside of row three. Brad Sweet and David Gravel led the field to green, but the two made contact coming out of turn four on the opening lap. The contact resulted in Gravel crashing, forcing a complete restart. When the race resumed, Schatz started fifth and he quickly started searching the track. Sweet led the race early while Shane Stewart and Madsen followed around the top groove. Madsen made a terrific move coming out of turn two on lap 24 to take second from Stewart and used a slide job on Sweet in turns three and four to take over the lead. While the top three were slicing and dicing for the top spot, Schatz was making the bottom groove work in turns one and two. He was ultimately able to pass Stewart and Sweet. Madsen set a torrid pace out front and Schatz did his best to track down the former Australian Sprint car champion. A late-race accident bunched up the field, but Madsen was too strong and earned his fifth WoO victory of 2017, ahead of Schatz, who tied his best finish at the track.

Only four races remain in the 2017 WoO season and Schatz continues to lead the championship standings. He has earned 11,114 points and leads all drivers in series wins with 19, in top-fives with 64 and in top-10s with 72.

Up Next:
The Textron Off Road/Arctic Cat/Ford Performance/Curb team will be back in Kansas this weekend for the Outlaw Boot Hill Showdown at Dodge City (Kansas) Raceway Park. Schatz is the Outlaws' most recent winner at the 3/8-mile, dirt oval. He led all 30 laps on July 4, 2015 to score his third career victory at the track.

TIL NEXT TIME, I AM STILL WORKING ON MY REDNECK!