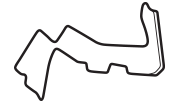 Event:  Singapore Grand Prix (Round 14 of 20)
Date:  Sunday, Sept. 17
Location:  Marina Bay Street Circuit
Layout:  5.065-kilometer (3.147-mile), 23-turn track
Weather:  Rain at start before clearing
Air Temps:  28.2-28.7 degrees Celsius (82.8-83.7 degrees Fahrenheit)
Track Temps:  29.6-32.3 degrees Celsius (85.3-90.1 degrees Fahrenheit)
Race Winner:  Lewis Hamilton of Mercedes
Haas F1 Team:
●  Romain Grosjean – Started 15th, Finished 9th (Running, completed 58/58 laps)
●  Kevin Magnussen – Started 16th, Finished 13th (Electrical, completed 50/58 laps)
The 10th running of the Singapore Grand Prix Sunday night at Marina Bay Street Circuit began with a bang as a multicar accident at the start jettisoned both the Scuderia Ferraris of Sebastian Vettel and Kimi Räikkönen, along with the Red Bull of Max Verstappen, to the garage before completing a single lap.
The lights-out chaos allowed Haas F1 Team driver Kevin Magnussen to vault from his 16th-place starting spot to 10th while teammate Romain Grosjean held steady in 15th, wheeling his Haas VF-17 unscathed through the debris field. Grosjean rallied to come home ninth and bring in valuable points while Magnussen suffered a DNF (Did Not Finish) and was classified 13th.
Even before the race went green, a dicey start was a foregone conclusion as rain enveloped the 5.065-kilometer (3.147-mile), 23-turn track, marking the first Singapore Grand Prix to be run in the wet.
Magnussen opted to start on the Pirelli Cinturato Blue full wet tire while Grosjean went with the Cinturato Green intermediate tire.
With the safety car pacing the field for the race's first four laps after the contretemps at the start, no one pitted for slicks as the racing surface remained wet, even as the rain abated. But as the race wore on, the track began to dry, forcing drivers and teams to debate when it was time to ditch the rain tires for slicks.
But as that decision was being weighed, the racing continued amid the treacherous conditions.
This was on display on lap 11 when Magnussen was being pursued by the Toro Rosso of Daniil Kvyat. Kvyat passed Magnussen for 10th off turn five, only to return the position to Magnussen when he aquaplaned going into turn seven, nosing into the barrier.
The resulting safety car period allowed Magnussen to duck into the pits and swap his full wet tires for a new set of intermediates. Grosjean, meanwhile, stayed out, picking up four spots to climb to 11th.
When the race went back to green on lap 15, Grosjean was 11th and Magnussen was 14th.
As a dry groove developed and the rooster tails from cars dissipated, the intermediate tires became more of a hindrance than a help. Nonetheless, on-track battles continued, with Grosjean breaking into the top-10 for the first time on lap 16 after passing the Williams of Felipe Massa. Then Magnussen put on a passing performance, getting past Massa on lap 16 and the Force India of Esteban Ocon on lap 17 to rise to 11th.
Magnussen was the first driver in the race to pit for slicks. He came to the service of his crew on lap 24, whereupon new Pirelli P Zero Purple ultrasoft tires – the grippiest compound in Pirelli's lineup – were installed on his Haas VF-17.
The rest of the Formula One paddock paid close attention to Magnussen's lap times, as he quickly began setting the race's fastest laps. The initial strategy call by Haas F1 Team was now being emulated up and down the pit lane, with teams calling their drivers to the pits for slicks.
Magnussen's quick laps allowed him to leapfrog Grosjean for 10th on lap 28 after Grosjean also made the switch to ultrasofts, rejoining the race in 11th.
Grosjean made his way past Magnussen on lap 33 to take 10th, allowing Ocon to also seize the opportunity to advance, picking up 11th on the following lap as Magnussen fell to 12th.
The safety car emerged again on lap 38 when Marcus Ericsson spun his Sauber at Anderson Bridge. Magnussen took advantage of the opportunity and pitted for a new set of ultrasofts. Grosjean stayed out, but with Nico Hulkenberg pitting his Renault, it allowed Grosjean to claim ninth.
The race returned to green for the final time on lap 42, and with all the delays, the Singapore Grand Prix became a timed event, hitting its two-hour limit instead of its 61-lap distance.
Grosjean began the final charge to the finish in ninth while Magnussen was 13th. The final 30 minutes of the race saw Grosjean maintain his position to earn his seventh point-paying result of the season. Magnussen, meanwhile, rose to 12th when Hulkenberg was forced to retire his racecar with 13 minutes left in the contest, but the position was eventually relinquished when Magnussen was called to the garage with 10 minutes remaining due to an electrical issue on his Haas VF-17.
Winning the Singapore Grand Prix was three-time Formula One champion Lewis Hamilton. The Mercedes driver scored his 60th career Formula One victory, his seventh of the season and third in a row. It was his third Singapore Grand Prix win, second only to Vettel's four. Hamilton's margin of victory was a stout 4.507 seconds over Red Bull's Daniel Ricciardo. The triumph, combined with Vettel's DNF, allowed Hamilton to open up a substantial 28-point advantage in the championship standings after coming into Singapore with just a three-point lead over Vettel.
Fourteen rounds into the 20-race Formula One schedule, Haas F1 Team is eighth in the constructors standings with 37 points, 20 points ahead of ninth-place McLaren and five points behind seventh-place Renault and 15 points arrears sixth-place Toro Rosso. Grosjean and Magnussen remain 13th and 14th, respectively, in the championship driver standings. Grosjean has 26 points and Magnussen has 11 points.
Six races are left in the 2017 FIA Formula One World Championship, with the next event coming Sept. 29-Oct. 1with the Malaysia Grand Prix at Sepang Circuit.
"I'm very happy for all of us, especially after a difficult weekend where we knew we didn't really have the pace. We chose to start on intermediates, which was ballsy. It was tricky, initially. After everyone pitted, it was the right tire to be on, so I was pretty happy with my choice. We swapped to the slicks maybe one lap too late. I think Kevin did a better job than I did in pitting for the ultrasofts.  From there I had a strong battle. I tried to go for (Lance) Stroll. He hit the wall once and I thought that was it, but it wasn't hard enough to get any damage, so he kept going and didn't make any other mistakes, so I couldn't pass. Mentally it was a tough race. The conditions were horrendous, initially. You couldn't see anything. I'm very happy we've scored points here."
"I was gutted not to see the checkered flag. It's very frustrating, but it happens sometimes. It was tough out there, but it was fun. It was challenging, but good on Formula One for letting us race and not having to start behind a safety car.
"I was getting heat into my tires again, because obviously I'd gotten out early on the tires and lost a bit of temperature, so they were building up. I was asked to swap, then I lost another position letting Romain past and getting wet tires. Then we had an issue, so in the end it didn't matter."
"To go away with two points here, for sure we worked hard for it, but we didn't expect it. All in all, we got a bit of a good end to this. On the other side, we're now eighth in the championship and not seventh. Coming in here we knew these things could happen, but we will fight hard to get back to seventh. Our drivers, our whole team, did a good job. There was nothing wrong with our strategy today. We always reacted very well. Both drivers kept the cars safe. Kevin would've brought his home but he had an electronics issue. We'll investigate that and why we had to shut it down. Romain did a good job and came home ninth with two points. We keep on going."
Round 15 of the 2017 FIA Formula One World Championship is the Malaysia Grand Prix at Sepang Circuit. Practice begins Sept. 29, qualifying takes place Sept. 30 and the race runs Oct. 1.
Haas F1 Team debuted in the FIA Formula One World Championship in 2016, becoming the first American Formula One team since 1986. Founded by industrialist Gene Haas, Haas F1 Team is based in the United States on the same Kannapolis, North Carolina, campus as his championship-winning NASCAR team, Stewart-Haas Racing. Haas is the founder of Haas Automation, the largest CNC machine tool builder in North America, and he is chairman of Haas F1 Team.
TIL NEXT TIME, I AM STILL WORKING ON MY REDNECK!