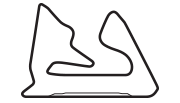 Event:  Qualifying for the Bahrain Grand Prix (Round 3 of 20)
Date:  Saturday, April 15
Location:  Bahrain International Circuit in Sakhir
Layout:  5.412-kilometer (3.363-mile), 15-turn track
Weather:  Clear
Air Temps:  29.2-32.5 degrees Celsius (84.6-90.5 degrees Fahrenheit)
Track Temps:  33.9 degrees Celsius (93 degrees Fahrenheit)
Pole Winner:  Valtteri Bottas of Mercedes (1:28.769 – new track record)
Result:  Romain Grosjean qualified 9th  /  Kevin Magnussen qualified 20th
●  Lasts 18 minutes, with all 20 drivers participating
●  Fastest 15 drivers advance to Q2
Grosjean:  11th quick (1:31.691), advanced to Q2
Magnussen:  20th quick (1:32.900)
Fastest Driver:  Lewis Hamilton of Mercedes (1:30.814)
Cutoff:  15th-quick Fernando Alonso of McLaren (1:32.054)
●  Lasts 15 minutes, featuring the 15 fastest drivers from Q1
●  Fastest 10 drivers advance to Q3
Grosjean:  9th quick (1:30.857), advanced to Q3
Fastest Driver:  Lewis Hamilton of Mercedes (1:29.535)
Cutoff:  10th-quick Jolyon Palmer of Renault (1:30.899)
●  Lasts 12 minutes, featuring the 10 fastest drivers from Q2, all battling for the pole
Grosjean:  9th quick (1:30.763)
Pole Winner:  Valtteri Bottas of Mercedes (1:28.769)
Second:  Lewis Hamilton of Mercedes (1:28.792)
Haas F1 Team drivers Romain Grosjean and Kevin Magnussen qualified ninth and 20th, respectively, for the Bahrain Grand Prix Sunday at the Bahrain International Circuit in Sakhir.
Grosjean set the 11th-fastest time in Q1 with a lap of 1:31.691 and Magnussen was 20th quickest with a lap of 1:32.900. Only the top-15 drivers move on to Q2.
Grosjean was able to advance to Q2 and Magnussen was on track to do the same until the Toro Rosso of Carlos Sainz Jr. stopped prior to the final corner. The resulting caution period thwarted Magnussen's lap, preventing him from improving his time.
In Q2, Grosjean earned the ninth fastest time with a lap of 1:30.857, which was a .834 of a second improvement from his Q1 time. Only the top-10 drivers from Q2 move on to Q3.
In Q3 for the fourth time as a Haas F1 Team driver and the second time this season, Grosjean acquitted himself well. His fast lap of 1:30.763 was .094 of a second better than his Q2 time and it allowed him to outpace the Renault of Jolyon Palmer to earn a ninth-place starting spot. Grosjean started ninth in last year's Bahrain Grand Prix before finishing fifth, which remains Haas F1 Team's best result.
Both Grosjean and Magnussen ran exclusively on the Pirelli P Zero Red supersoft tire throughout qualifying.
Taking the pole for the Bahrain Grand Prix was Mercedes driver Valtteri Bottas. His fast lap of 1:28.769 set a new track qualifying record and was .023 of a second better than runner-up and teammate Lewis Hamilton. Hamilton held the previous track qualifying record of 1:29.493 set last year in Q3, and Bottas' pole-winning time beat it by .724 of a second. This is Bottas' first career Formula One pole and the Bahrain Grand Prix will mark his 80th career start.
Before Grosjean, Magnussen and the rest of their Formula One counterparts participated in knockout qualifying, they had one final practice (FP3) to dial in their racecars for a quick lap around the 5.412-kilometer (3.363-mile), 15-turn track.
Magnussen ran 13 laps and set the 17th-fastest time with a 1:34.198 on his 11th lap. Grosjean tallied 14 laps and earned his best time on his final lap – a 1:34.205 that put him 18th overall. Both drivers worked to find a balance on their respective Haas VF-17s, and the struggle was illustrated by Grosjean's spin at the exit of turn four. The front of his car touched the barrier, knocking off the wing. The damage was negligible, however, as Grosjean was able to drive back to the garage and have it replaced. Quick work by the crew allowed him to complete five more laps before the session ended.
Quickest in FP3 was Red Bull's Max Verstappen, whose fast lap of 1:32.194 was .110 of a second better than the next best time set by Hamilton.
"It's been great to turn around the day as we did. We really struggled in FP3. I couldn't feel the car. The guys did a great job setting it up for qualifying and the car felt much better from the first run in Q1. That was good and I'm very happy where we are. We're in a great place to start the race. Last year we started P9 and finished fifth, so anything is possible. It's going to be a long race. Tire degradation is going to be a big thing here. I'm looking forward to seeing how it goes tomorrow and seeing what we can do from ninth."
"It's bad luck. These things happen, but it's always annoying. That's how it is sometimes, but we've just got to get up tomorrow and have a good race. Obviously in China, race conditions were a bit easier to fight back, but we'll still give it a go tomorrow. We'll see if we can get through. Anything can happen, we know that. There's no reason to give up. We'll just do what we can."
"Today was a difficult day, certainly in FP3, as we struggled. We couldn't find the balance of the car and both drivers had very similar problems. We recovered as well as you can for qualifying. Romain qualified ninth, which at the moment if we have a good day is where we should be. Kevin was unlucky in Q1, again, with a double yellow. Last week it was Romain's turn and today it was Kevin's time, otherwise we were pretty confident he would've made it into Q2.
"Hindsight's a beautiful thing. If you go out too early, where we are with our performance, we need to use the track improvement to gain the next spots. So if you go out early, you cannot get a time, you take a risk. To end up two consecutive weekends with the double yellows, that's a little bit unlucky. If the car was faster, we wouldn't have to take the risk. Last week we started second-to-last and Romain finished 11th. For sure, we will try to do the same tomorrow – to get back in the points, as we saw this was possible last week."
TIL NEXT TIME, I AM STILL WORKING ON MY REDNECK!