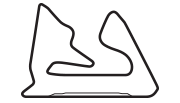 Event:  Bahrain Grand Prix (Round 3 of 20)
Date:  Sunday, April 16
Location:  Bahrain International Circuit in Sakhir
Layout:  5.412-kilometer (3.363-mile), 15-turn track
Weather:  Clear
Air Temps:  23.9-26.3 degrees Celsius (75-79.3 degrees Fahrenheit)
Track Temps:  28.3-34.8 degrees Celsius (82.9-94.6 degrees Fahrenheit)
Race Winner:  Sebastian Vettel of Scuderia Ferrari
Haas F1 Team:  
●  Romain Grosjean – Started 9th, Finished 8th (Running, completed 57/57 laps)
●  Kevin Magnussen – Started 20th, Finished 19th (Electrical, completed 8/57 laps)
For the second straight race, Haas F1 Team scored a point-paying result as driver Romain Grosjean delivered an eighth-place finish in the Bahrain Grand Prix Sunday at the Bahrain International Circuit in Sakhir.
Grosjean started ninth in the 57-lap race around the 5.412-kilometer (3.363-mile), 15-turn track and held his position amid the always chaotic start, a lap-16 restart and two pit stops. After his final stop at the end of lap 32 where Grosjean swapped his Pirelli P Zero Red supersoft tires for a new set of Yellow softs, he used the fresh rubber to overtake the Toro Rosso of Daniil Kvyat for eighth on lap 38. Grosjean maintained the spot through the checkered flag to take his first point-scoring finish of the year.
Teammate Kevin Magnussen didn't have the opportunity to vie for points. After rising from his 20th-place starting spot to 15th, Magnussen's race ended after eight laps when an electronics issue cut his car's power supply, forcing him to pull off at turn eight. Magnussen finished eighth the week before in the Chinese Grand Prix.
Grosjean's eighth-place effort was his fifth top-10 finish in six career Formula One starts at Bahrain. Grosjean finished fifth in last year's Bahrain Grand Prix for what remains Haas F1 Team's best result in 24 Formula One races.
Sebastian Vettel won the Bahrain Grand Prix by 6.660 seconds over Mercedes driver Lewis Hamilton to earn his second victory of 2017. Vettel won the season-opening Australian Grand Prix and after three races the Scuderia Ferrari pilot leads the 2017 FIA Formula One World Championship by seven points over Hamilton. This was Vettel's 44th career Formula One victory and his third at Bahrain, with his last win in Sakhir coming in 2013 when he drove for Red Bull.
Three rounds into the 20-race Formula One schedule, Haas F1 Team remains seventh in the constructor standings with eight points, four behind sixth-place Toro Rosso and six ahead of eighth-place Renault. Grosjean and Magnussen are tied for 10th in the driver standings with four points apiece.
Formula One takes a weekend off before returning to action April 28-30 for the Russian Grand Prix at the Sochi Autodrom.
"It was a pretty good race. I made a decent start and my first stint was pretty good, but it was tough to stay behind the Renault. Then we had the bad luck with the safety car, as we'd pitted just before. I saw (Sergio) Perez come out and I thought, 'How did he come out in front of me when he'd been 10 seconds behind?' He gained 12 seconds with the safety car and that cost a position. At the restart I struggled a little bit with the top speed. But, eventually, we made the right strategy call and pushed on the good laps with some great overtaking maneuvers. So, here we are, P8. It's good to be here scoring points."
"The car stopped for some reason. I don't know what the cause is yet, but I lost power. I had to stop, unfortunately. It happened suddenly – just the power disappeared. Conditions until then were pretty good. The tire wear was a bit lower and it was easier on brakes. It would've been a good race. I just look forward now and am happy with the car. It's running in the points and qualifying in Q3. We've had three straight weekends where the car's been in points positions. I'm looking forward to this continuing."
"It was a bittersweet race with one driver in the points and one with a DNF (Did Not Finish). Kevin had a problem with his electronics. We don't know yet what it is. The car just switched off and he had to park it. Romain fought a good battle. We know where we are. We were not strong enough for Perez (Force India), but we were good enough to beat Hulkenberg (Renault). It's a tight battle and, again, we got four points from here."
TIL NEXT TIME, I AM STILL WORKING ON MY REDNECK!