Thirty-four years ago, Gene Haas founded Haas Automation. Today, it is the largest machine tool builder in North America. Fifteen years ago, Haas started a NASCAR team. Today, Stewart-Haas Racing has two Monster Energy NASCAR Cup Series championships and 36 victories. A year ago, Haas F1 Team debuted in the FIA Formula One World Championship, becoming the first American Formula One team in 30 years. Now, it prepares for its sophomore season, aiming to advance past its strong eighth-place finish in the 2016 constructor standings.
Find a challenge. Create a good, efficient and cost-effective solution. Repeat. It is Gene Haas' formula for success.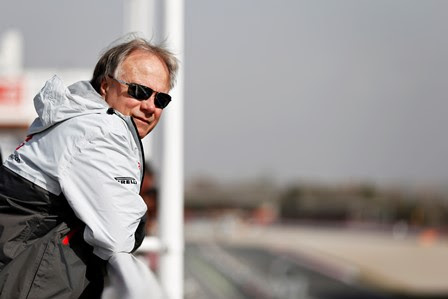 The serial entrepreneur and machine tool magnate enjoyed an incredible first year as a Formula One team owner. Haas F1 Team silenced the skeptics by scoring points in its debut at the Australian Grand Prix. Veteran driver Romain Grosjean finished sixth to place the new kids on the block an unfathomable fifth in the constructor standings, buttressed by teams with decades more experience. The last time a Formula One team scored points in its debut race was in 2002 when Mika Salo finished sixth for Toyota at the Australian Grand Prix, a span of 14 years.
Grosjean one-upped his Australian Grand Prix performance by finishing fifth in the series' next race – the Bahrain Grand Prix. Not since Shadow Racing – another American team – debuted in 1973 with consecutive point-scoring finishes by Californian George Follmer had an organization earned two top-six finishes in its first two races.
Grosjean's eighth-place finish in the fourth race of year – the Russian Grand Prix – yielded another points haul. Three point-paying finishes in the first four races gave Haas F1 Team the distinction of earning the most points of any new team in this millennium. When Jaguar debuted in 2000 and when Toyota came on the scene in 2002, each entity managed only two point-paying finishes in their entire first seasons.
While its inaugural Formula One effort was successful, little can be taken into Haas F1 Team's second season. There is a new car being built under much different regulations, which includes an advanced aerodynamic package that will create a higher level of downforce via a longer nose, wider front wing, larger barge boards, sidepods being pushed out, a lower and wider rear wing and a diffuser that expands 50 millimeters (two inches) in height and width. Augmenting these changes are wider tires from Pirelli, by 60 millimeters (2.4 inches) in the front and 80 millimeters (3.1 inches) in the rear.
Adapting to these changes while simultaneously improving on its 2016 benchmark is top of mind for Haas F1 Team. It is another challenge, where another round of good, cost-effective solutions is being implemented. It's a cycle Haas has used to grow Haas Automation into a billion-dollar company and Stewart-Haas Racing into a championship-winning NASCAR team.
How did Haas get these entities to the top of the mountain and what does he see in Haas F1 Team's future? Let's hear it from the man himself.
Looking back on your first season in Formula One, how would you assess it?
"I think it was a very successful entrance into Formula One. We accomplished all of our major goals and, actually, surpassed what we expected at the beginning of the season."
Was your first year in Formula One similar to your first year in NASCAR, or were they two totally different experiences?
"Well, our first year in NASCAR was a really arduous task. We always ran at the back and we did it for like six years straight and we never had much luck. We started in NASCAR in 2002 and the competition for drivers and crew chiefs was intense and we just struggled."
Were there lessons learned from your NASCAR endeavor that were applied to Haas F1 Team's inaugural season?
"Yes. Everything we learned that we did wrong in NASCAR we avoided in Formula One, and the most important thing was immediately seeing what works and what doesn't work. We learned that the hard way in NASCAR, so when we went to Formula One our focus was not so much on how we did things, but who we did things with."
Was your inaugural Formula One season what you expected, or were there things that surprised you?
"I was a little bit surprised at the initial points scoring. In Melbourne we were sixth – almost unheard of in Formula One that in your first race out you would score that high."
What was your proudest moment?
"I certainly think Melbourne, because it was our inaugural race and actually scoring points was a record-breaking event. Melbourne certainly stands out above any other race during the whole season just because we scored points."
Was there ever a moment when you thought, "What have I gotten myself into?"
"There's no doubt about that because when we first started in Formula One, the whole idea was that we were going to make everything ourselves. We were going to be the traditional constructor where we were going to make our own chassis, suspension, components and aero. But it was a massive undertaking, so we reversed course a bit and said, 'Ok, who could we partner with?,' because this is such a monumental task there's no way that we can accomplish this in the eight or nine months we had to do it. So we had a complete change in strategy. That's when we ended up partnering with Ferrari."
How do you think Haas F1 Team was perceived before the start of the year and what do you think its perception is today?
"There was a huge amount of skepticism at first. I think a lot of people certainly thought we'd run in the back the entire season. We did have a lot of support from NBC Sports and all the guys on the broadcast. I think by the end of the season we silenced the critics and, by now, most people see us as a serious competitor."
Beyond the sporting challenge of Formula One, there was a business case for your company, Haas Automation, to become involved in Formula One. You said you wanted Haas Automation to become a premium, global brand via Formula One. While brands aren't built overnight, do you feel that growing Haas Automation globally is on track thanks to Haas F1 Team?
"Being a Formula One participant brings a level of credibility that you just won't get through traditional advertising. People are kind of 'show me' people, like show me what you can do and then I'll believe in you. It translates well into building machine tools where if we can race cars, we can build machine tools. That was the initial concept – to convince people of our ability to do things that others can't, and I think that translates into being a machine tool builder. People see what we can do in Formula One, and people believe Haas Automation can build world-class machine tools."
It was a massive undertaking to prepare for your first year, but with a new car and a new set of regulations, is 2017 going to be just as challenging?
"I think it has pluses and minuses. On the plus side, we're not trying to put the whole pit crew together. We don't have to worry about getting trucks and other infrastructure. We have all that in place. The negative side is that there's less time to do all these things again and there are a lot of rule changes, so you have to be prepared. On the other hand, we have stronger relationships with a lot of our suppliers, so that should make it easier. It's kind of give and take. It'll be just as challenging as it was last year, but I think with the knowledge we have, we should actually perform a little bit better this year."
What would you like to achieve in 2017?
"If we can do a little bit better because our business model in Formula One allows us to operate more efficiently, we might be able to move up a position or two."
You proved that standing still isn't something you do when you made a driver change for 2017, as Kevin Magnussen joins the team to partner with Romain Grosjean. What is it that you like about Magnussen?
"Well, Magnussen was actually one of our original candidates. We talked to Magnussen and thoroughly went through his racing resume and we were very impressed. Near the end of the season, we asked Kevin if he might be available and he said he was. On the second to last race weekend of the season, we made our decision and brought him to Haas F1 Team."
You grew up in Youngstown, Ohio, attended college in southern California and started Haas Automation out of your garage. Haas Automation is now the largest machine tool builder in North America, your NASCAR team has won two championships and you built the first American Formula One team in 30 years. Looking back, are you able to appreciate the scope of your achievements or are you constantly looking forward?
"I don't look back too much on it. The machine tool industry is a very tough business, and racing is a tough businesses too. Only the people who get to the top are ever remembered, and it's a business of attrition just like the machine tool business. Racing is tough and machine tools are tough, but both have started a lot of other business, like Windshear, our full-size, rolling-road wind tunnel in North Carolina. I find that in machine tools and in racing it seems that the most successful attribute you can have is just stubbornness and the will to not give up. Going racing and working with machine tools is how I started, so the two have always gone hand-in-hand. It's really the only thing I know that well. I've been successful at it even though it's an incredibly competitive environment."
When did the racing bug bite, and when did you meld your passion for racing with machine tools?
"I was in high school when I went to work for LeGrand racecars. One of my starting jobs there was machining magnesium wheel for racecars. I was 16 years old when (Red) LeGrand said, 'Here's this lathe over here. I'll show you how to make some wheels.' So he showed me and gave me a couple of tips and I'd say a month later I was sitting there machining wheels out of magnesium by myself. I could set the machines up and run the machines, so I was the magnesium machine guy there and that's what I did. It doesn't take long until you get involved with the racers there. The highest form of racing at that time was Formula 5000. I actually went to the Long Beach Grand Prix in 1975 followed by the Formula One Grand Prix in 1976, which went on for almost 10 years. I saw some of that high-profile racing right after college."
Haas F1 Team debuted in the FIA Formula One World Championship in 2016, becoming the first American Formula One team since 1986. Founded by industrialist Gene Haas, Haas F1 Team is based in the United States on the same Kannapolis, North Carolina, campus as his championship-winning NASCAR team, Stewart-Haas Racing. Haas is the founder of Haas Automation, the largest CNC machine tool builder in North America, and he is chairman of Haas F1 Team.
Haas Automation, Inc., is America's leading builder of CNC machine tools. Founded by Gene Haas in 1983, Haas Automation manufactures a complete line of vertical and horizontal machining centers, turning centers and rotary tables and indexers. All Haas products are built in the company's 102,000 square-meter (1.1 million square-foot) manufacturing facility in Oxnard, California, and distributed through a worldwide network of Haas Factory Outlets that provides the industry's best sales, service and support while offering unparalleled cost-to-performance value. For more information, please visit us on the Web at www.HaasCNC.com, on Facebook atwww.Facebook.com/HaasAutomationInc, on Twitter @Haas_Automation and on Instagram @Haas_Automation.
TIL NEXT TIME, I AM STILL WORKING ON MY REDNECK!