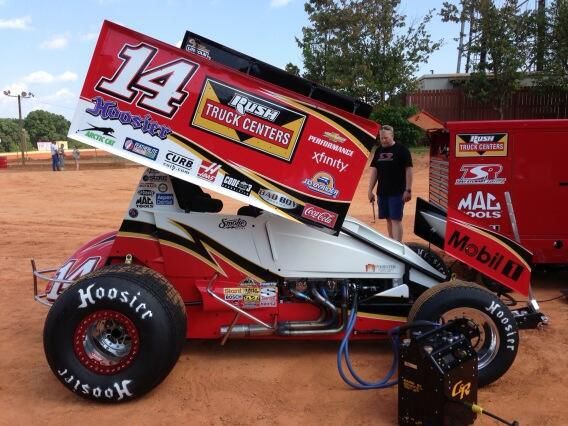 With the 2017 season set to open for Tony Stewart-Curb/Agajanian Racing (TSR) in Florida Thursday, the team is focused on continuing to set the standard in short track racing with two of the most accomplished drivers in all of motorsports. Behind the wheels of the TSR Sprint cars are eight-time and reigning World of Outlaws (WoO) Craftsman Sprint Car Series Champion Donny Schatz and three-time NASCAR Cup Series champion, 1997 IndyCar champion and 1995 USAC triple crown winner Tony Stewart.
Recent announcements of partnerships for TSR with Arctic Cat, a world leader in designing, engineering and manufacturing all-terrain vehicles (ATVs), snowmobiles and recreational off-highway vehicles (side-by-sides or ROVs), and Rush Enterprises, operator of the largest network of commercial vehicle dealerships in North America, serving as primary sponsor roles on the TSR No. 15 Arctic Cat/Ford Performance/Curb J&J and TSR No. 14 Rush Truck Centers/Arctic Cat/Curb/Ford Performance J&J, are followed by today's announcement by the team of continued support from Curb/Agajanian's Mike Curb and partner Cary Agajanian in co-entrant role and the addition of Ford Performance as a partner on both TSR cars.
"The strength of any team is the sum of its parts and we are so fortunate at TSR to be surrounded by so many incredible people and partners," said Stewart. "It takes a total team effort to have success, and to sustain that success, a vision of the future must continue to evolve from within. Mike Curb and Cary Agajanian have been part of our commitment to championships the past five seasons helping us to continue raising the bar in this sport. And I'm extremely excited that Ford Performance is teaming up with our organization with an eye the future."
Curb's long tradition of motorsports involvement dates back to the early 1980s. TSR became part of their history in 2010 when Curb/Agajanian became a co-entrant on TSR's United States Auto Club (USAC) entries. While earning USAC championships in both the Silvercrown and Sprint car series with Levi Jones, Bobby East and Bryan Clauson, Schatz carried the Curb brand to a 2012 WoO championship and a victory in the 2013 Knoxville (Iowa) Nationals before Curb/Agajanian elevated to co-entrant on the TSR No. 15 in 2014. TSR/Curb-Agajanian won the 2014 and 2015 Knoxville Nationals and the last three WoO championships heading into 2017.
"Curb Records and Curb-Agajanian Motorsports are extremely excited about expanding our relationship with Tony Stewart with Tony driving alongside teammate Donny Schatz," said Mike Curb. "Tony has won in everything he has ever participated in and now we will have two of the greatest Sprint Car drivers of all time on the same team."
Ford Performance returns to Sprint car racing with an affiliation with TSR and will work to develop a 410 cubic inch engine package the teams ultimately will compete with. In the interim, both Schatz and Stewart will continue competing with their current motor programs.
"We are happy to be partnering with Tony Stewart Racing in this racing effort," said Dave Pericak, Global Director, Ford Performance. "Tony and his team have been leaders in many of the grassroots racing efforts in this country, and we are happy to assist them in this program going forward.  Although our Ford engine will not be ready at the start of this season, we are committed to getting a competitive engine package available to this program as soon as possible."
Fans are encouraged to follow the progress of Schatz, Stewart and TSR throughout the 2017 season on the Web and social media. More information can be found at www.TonyStewartRacing.com,www.tonystewart.com and www.donnyschatzmotorsports.com.
Tony Stewart Racing: Facebook at www.Facebook.com/TonyStewartRacing or on Twitter and Instagram @TonyStewart_Rcg.
Donny Schatz: Facebook at www.facebook.com/DonnySchatz or on Twitter and Instagram @DonnySchatz.
Tony Stewart: Facebook at www.facebook.com/TonyStewart or on Twitter @TonyStewart.
Curb: Facebook at www.facebook.com/CurbRecords or on Twitter and Instagram @CurbRecords.
Ford Performance: Facebook at www.facebook.com/FordPerformance or on Twitter and Instagram @FordPerformance.
About Curb
Celebrating over 50 years, Curb Records is one of the world's leading independent music companies.  Owned and operated by Mike Curb since 1962, Curb Records has achieved over 400 number one records, over 1,500 Top Ten records and charted over 4,500 total records.  Today's roster includes some of the top names in Country, Christian and Pop/Rock music.  Curb Records has been honored as Billboard Magazine's Country Music Label of the Year and Radio & Records Magazine's Overall Gold Label of the Year.  For more information, visit www.curb.com.
About Ford Performance
Ford's racing program is part of the Ford Performance organization based in Dearborn, Mich. It is responsible for major racing operations globally, including NASCAR (Monster Energy Cup Series, Xfinity Series, Camping World Truck Series), IMSA WeatherTech SportsCar Championship, FIA World Endurance Championship, Chinese Touring Car Championship, Formula Ford (Formula Four), and NHRA sportsmen drag racing. In addition, Ford's action motorsport programs involve FIA World Rallycross and Formula Drift. The organization also oversees the development and marketing of Ford's racing engines and performance parts, as well as the outreach programs with all Ford Clubs and Ford enthusiasts. For more information regarding Ford racing's activities, please visit www.fordperformance.com,www.facebook/FordPerformance, Ford Performance on Instagram and @FordPerformance on Twitter.
About Tony Stewart Racing
Tony Stewart Racing (TSR) is the title-winning World of Outlaws Sprint Car Series team owned by three-time Monster Energy NASCAR Cup Series champion Tony Stewart. The organization has captured 21 short-track racing titles (14 in the United States Auto Club and seven World of Outlaws) since its inception in 2001. In 2017, TSR will field a team for eight-time World of Outlaws Craftsman Sprint Car Series champion Donny Schatz and also a team for Stewart. Based in Brownsburg, Indiana, TSR operates out of a 25,000-square-foot facility. For more information please visit us on the Web at www.TonyStewartRacing.com or on Facebook at www.facebook.com/TonyStewartRacing, on Instagram at @TonyStewart_rcg and on Twitter at @TonyStewart_rcg.
TIL NEX TIME, I AM STIL WORKING ON MY REDNECK!