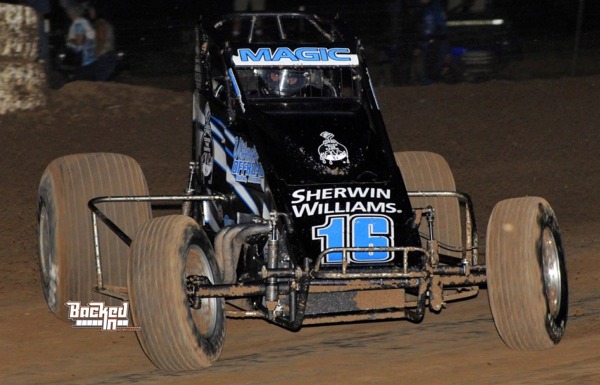 Kent Rosevear has this thing about showing up for USAC sprint car events.
He shows up, and wins.
At least that's been his mode of operation, dating back to 2003, when he arrived unannounced at Imperial Valley Speedway and beat everyone in the field to the checkered flag.
He then dropped in for a USAC event at then Thunder Raceway in Show Low, and won again.
The funny thing is, Rosevear is not a USAC member. He just likes racing open-wheel sprint cars.
So, with the USAC Southwest Sprint Car Series making a special guest appearance Saturday night at Cocopah Speedway, guess who's in the lineup.
Can we say Kent Rosevear?
The Yuma racing veteran is renting a ride from his long-time friend, Mike Martin, who is a regular in the USAC Southwest Series.
Whether or not Rosevear can put together another winning ride depends on a lot of things.  Some of those things consists of track conditions, how comfortable Rosevear can get in Martin's car and the big concern is just how stiff the competition might be Saturday night.
That last item, the competition, will be the biggest concern, because Rosevear said it's a very talented, very fast group of drivers headed for the Somerton oval Saturday night.
"I mean these guys are tough,"said Rosevear. "They're tough. That's not going to be an easy deal."
The show on dirt begins at 7 p.m. and will also include Round 5 in the 2016 Cocopah Speedway Racing Series, featuring the IMCA Modifieds, Sport Modifieds, Stock Cars and Hobby Stocks.
For the USAC Southwest Series, it will be the ninth race on the 2016 schedule. Stevie Sussex, from Tempe, with one feature event win so far in 2016, arrives as the point leader, followed by three-time and defending USAC Southwest Series champion R.J. Johnson, from Phoenix, also with one win, in second, Charles Davis Jr., from Buckeye, in third, Martin in fourth and Josh Pelkey, from Peoria, in fifth.
Davis, it should be noted, won the last non-winged 360 event at Cocopah Speedway when the Lucas Oil American Sprint Car Series Canyon Region took the track in 2012.
That same night Martin finished fifth, and Rosevear, in another Martin rental car, made his way up from 18th in the feature event field to fifth before being taken out in a crash.
Rosevear hasn't been in an open wheel car since, but make no mistake about it, he's excited about doing it again.
"Mike let me have the opportunity to do this," said Rosevear, who also won the IMCA Modified championship at Cocopah Speedway in 2010-2011.
"I'd love to still do it (on a regular basis), it's just the time and the money, the cost," he said.
Perhaps the most important thing for Rosevear to do Saturday is to find his comfort zone – inside the car.
"The strategy is to just try to get comfortable, as quick as possible," he said. "Those things are a beast, and getting used to the power, they have a lot more power than I remember in 2003. You could swear they're a 410, they run very well, and Mike has the best equipment."
Once the main event arrives, Rosevear said he anticipates the conditions will be dry and slick.
"It's going to be tough because it's going to be dry, I believe, by the time we get on the track. By the time we get out there they will have run four main events prior to us, so I think passing is going be tough.
"If I had to guess, it's going to be up against the fence or putting around the bottom, so it's going to be tough. It's not going to be an easy deal."
In the night's undercard, the Cocopah Speedway Racing Series, Imperial's Steven McCollough, who has not won an IMCA Modified Division feature event so far in 2016, arrives as the point leader, with Brawley's Russell Allen six points back and on a three-race winning streak.
In the other divisions, Yuma's Joey Essary is the Stock Car leader with a narrow one-point advantage over Yuma's Manny Baldiviez; Yuma's Adolfo Noriega is the Sport Modified leader, with a one-point advantage over Imperial's Corey Clayton; and Yuma's Jim Robinson heads up the Hobby Stock title chase, leading Yuma's Jason Beshears by three points.
It is going to be great night of dirt track racing Saturday at Cocopah Speedway.
TIL NEXT TIME, I AM STILL WORKING ON MY REDNECK!