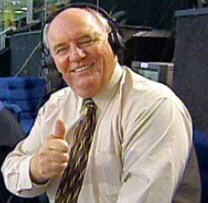 FOR IMMEDIATE RELEASE
Benny Parsons NASCAR Hall of Fame Nominee Profile and Fast Facts
April 12, 2016 – North Wilkesboro, NC
Benny Parsons
1973 NASCAR Premier Series Champion
Personal Stats:
Benjamin Stewart Parsons
Nickname(s): Benny or "BP"
Born: July 12, 1941 (Purlear, NC – Wilkes County, North Carolina)
Death: January 16, 2007 (Charlotte, North Carolina)
Alma mater: Millers Creek High School (Now West Wilkes High School)
Career Racing Stats:
Active Years: 1963 – 1988
First Race: Mt. Clemens Speedway(Mt. Clemens, MI 1963)
1973 NASCAR Premier Series Champion (1 Win, 15 Top-5's, 21 Top-10's and leading 374 laps en route to championship)
Starts: 526 (First start – August 9, 1964 – Ashville-Weaverville Speedway Finishing 21st, Final Start November 20, 1988 – Atlanta Motor Speedway Finishing 34th)
Wins: 21 (First Win – May 9, 1971 – South Boston Speedway, Final Win – March 18, 1984 – Atlanta Motor Speedway)
Poles – 20 (First Pole – November 22, 1970 – Langley Speedway, Final Pole – August 17, 1986 – Michigan International Speedway)
Misc Stats:
1975 Daytona 500 Champion
1982 Daytona 500 Pole Winner
1979 Busch Clash Pole Winner
1980 World 600 at Charlotte Winner
1986 Atlanta Invitational(Sprint All Star Race) Winner
199 Top-5 and 283 Top-10's with an average start of 9.3 and finish of 14.5
Career winning total $4,498,643
1968 and 1969 ARCA Racing Series Champion
1 Win, 7 Top-5's and 14 Top-10's in IROC competition over 5 seasons
1964 competed with Cale Yarborough in a Holman-Moody prepared car for a Ford Motor Company backed ride at Ashville-Weaverville Speedway
Racing Career Notes of Interest:
Named to NASCAR's 50 Greatest Drivers in 1998
Inducted into the International Motorsports Hall of Fame in 1994
Inducted into the Motorsports Hall of Fame of America in 2005
Inducted into the National Motorsports Press Association Hall of Fame 1995
First driver to break 200 mph barrier in qualifying at 200.175 on May 2, 1982 at Talladega Superspeedway
Won only once in his hometown of Wilkes County at North Wilkesboro Speedway on October 14, 1979. The race was originally scheduled on September 30, 1979 but was postponed due to heavy rains and earthworms that covered the racing surface.
Started twice on the pole at North Wilkesboro Speedway (1978 and 1979)
While working at a gas station outside of Detroit, MI Parsons was invited to the local track when the driver failed to show for the night Parsons took over driving duties for his first career start in 1963 at Mt. Clemens Speedway
Parsons crew chief Harry Hyde real life references were included in Tom Cruise's movie Days of Thunder. One such reference at Darlington Raceway following several stops for an early crash Hyde refused to pit the wrecked car because the crew was on an ice cream break.
Discovered current Roush Fenway Racing Sprint Cup Series driver Greg Biffle
When former owner Harry Melling sought out a replacement Parsons would introduce Melling to Bill Elliott telling him at the time he was the "Real Deal"
Driving for Hall of Fame car owner Bud Moore in the final race at Texas World Speedway Parsons would edge Dale Earnhardt Sr. to give Ford Performance their 300th series victory
Parsons would also become the first ARCA Racing Series Champion to be inducted into the The International Sports Hall of Fame
Broadcast Career Stats:
In 1979 Parsons paired with CBS and lead announcer Ken Squier for the first live flag-to-flag Daytona 500 to become the first driver with an in-car camera to follow them during a race.
While still racing part-time in the 80's Parsons began a transition to a broadcast career first working as a pit reporter for ABC/ESPN and TBS/TNT.
In 1988 after retiring from full-time racing Parsons would go to work as an on-air broadcaster for ABC/ESPN until 2001 before moving to NBC/TNT where he would work until his death in 2007 with personalities such as Ned Jarrett, Allen Bestwick, and more.
Adding to Parsons broadcast TV career starting in the early 90s on WFMX radio covering Sprint Cup Series qualifying with Mark Garrow before moving over to PRN to co-host Fast Talk.
Misc Stats and Notes of Interest:
Parsons would appear in various on screen productions including Stroker Ace, Herbie Fully Loaded, and Talladega Nights: The Ballad of Ricky Bobby
Parsons on screen and voice over work would be included in EA Sports NASCAR '99, NASCAR 2000, NASCAR 2001, NASCAR Thunder 2002, NASCAR Thunder 2003, and NASCAR Thunder 2004
Notable Segments: Buffet Benny, The "Golden Benny", and Benny Parsons Hat of the Week
Parsons would win an ACE Award in 1989 an ESPN Emmy in 1996 for his broadcasting work at ESPN and in 2006 a Emmy for outstanding live sports series on NBC/TNT
Other awards: Myers Brothers and National Motorsports Press Association Spirit Award  – 2006
TIL NEXT TIME, I AM STILL WORKING ON MY REDNECK!