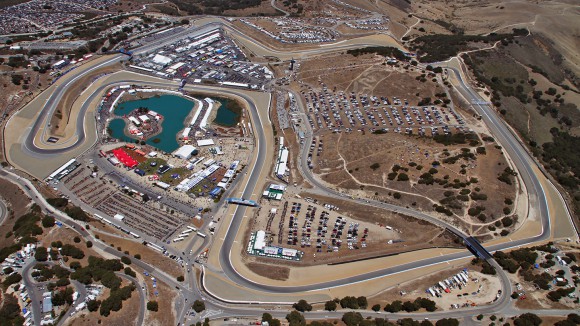 A new motorsports and entertainment company could have the inside track on taking over management of Mazda Raceway Laguna Seca, but members of the Sports Car Racing Association of the Monterey Peninsula hope that isn't the case.
Earlier this year, the Monterey County Board of Supervisors conducted an "informal national canvassing" of qualified companies to manage racing venues and that's where the new company — International Speedway Corp. — entered the picture.
Monterey County District 5 Supervisor Dave Potter said SCRAMP put in a proposal months ago to the board of supervisors for the rights to continue overseeing the operations of Mazda Raceway. Potter added that even with the proposal from SCRAMP, the board of supervisors still decided to conduct a national search because of on-going improvement needs at Mazda Raceway.
"What's happened is this has been turned into some sort of attempt to disrespect SCRAMP and that's not the case," said Potter. "We're actually hoping for SCRAMP to be apart of an ISC management plan if that ever happens."
According to its website, the ISC is a for-profit, publicly traded company out of Daytona, Fla., that owns or operates 13 of the nation's premier motorsports entertainment facilities across the country.
Some of those facilities include Daytona International Speedway, Talladega Speedway and Phoenix International Raceway.
In all, ISC's 13 facilities promote more than 100 motorsports events during the race season.
SCRAMP helped build what is known today as Mazda Raceway back in 1957. The land was orginally a part of Fort Ord, but was deeded to the county in 1974 to administer the land with a concession agreement to operate the facility with SCRAMP.
Curry said the nonprofit organization wasn't aware of the county's negotiations with ISC until mid June. Now it's riled up enough about the situation to take out full-page advertisements, declaring its dissatisfaction with how the county has treated the group.
"Six weeks ago we got a call from a couple of county gentlemen (officials) that we've been working with for the last couple of years," Curry said. "We were told at that time that the county had entered a due diligence period with ISC."
The due diligence process is for 90 days, but Curry alleges that the county has been holding closed-session meetings to discuss a new concession agreement without SCRAMP's knowledge, dating back to January 2014.
County Communications Coordinator Maia Carroll said in a news release ISC expressed interest when county officials canvassed the nation for companies qualified to manage racing venues.
Carroll said any decision on what company oversees Mazda Raceway will be done the right way.
"Any actions on a new concession or track management agreement will be subject to a full public process at the appropriate time," Carroll said in a statement. "The raceway will continue to be 'local' because Monterey County will remain its owner and continue the county's historic oversight of this important asset."
Carroll added: "The county remains hopeful that SCRAMP will see a great opportunity for it, the raceway, and the community in an agreement with ISC."
Could this mean that either NASCAR, or Indy Car, or both, may be coming to this facility in the near future?  That could bring huge money to the Monterey Peninsula if big time racing makes a return to Laguna Seca!
TIL NEXT TIME, I AM STILL WORKING ON MY REDNECK!