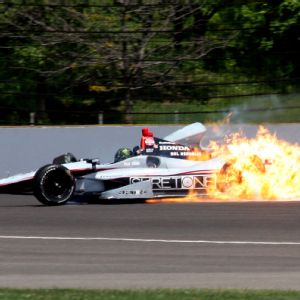 (espn.com)

Kurt Busch, who will attempt to become the first driver to complete the IndyCar-NASCAR 1,100-mile double since 2001, crashed during practice for the Indianapolis 500 on Monday.
Busch was running in a large group of cars around Indianapolis Motor Speedway when he lost control exiting Turn 2. He attempted to correct, but the Andretti Autosport Honda veered to the right and made hard right-side contact with the outside wall, briefly flashing with fire as it spun to a stop in the infield grass.
The 2004 NASCAR Cup champion exited the damaged car on his own and was taken to the speedway's infield care center for a mandatory examination. Before the accident, Busch had completed 56 laps of practice, with his last lap clocked at 223.433 mph.
"One-hundred percent just working in traffic," Busch said. "Just trying to settle in and not make mistakes, and I just made a mistake.
"I was starting to feel comfortable. That's when I made the mistake of just letting my guard down or settling into that 'long run'-type mentality, whereas with an Indy car you have to be on edge. You have to keep track of where you are at all times and the adjustments in the car. Maybe I just didn't keep up with keeping the car underneath me. You're trying to get into that rhythm and feel other things around you, and I got behind on my adjustments in the car."
Within 15 minutes, Busch was checked and released from the care center and cleared to drive. His car can be repaired in time for Carb Day on Friday, the final practice session before Sunday's 500-mile race.
Busch also will compete in the NASCAR Sprint Cup Coca-Cola 600 later that same day at Charlotte Motor Speedway.
"It's nice to [crash] at an opportune time," Busch said. "We still have Carb Day to shake things down and get back in the groove. This created a lot of work for the Andretti guys and I feel bad for that.
"As a rookie, there's things you learn and put it up on the edge and get away with, and then there's times when it will bite you. It's just tough."
Verizon IndyCar Series championship leader Will Power was directly behind Busch on the track when he crashed.
"I saw him start to bobble, so I backed off," Power said. "The next thing I saw was the fire when he hit the wall, but I was able to dodge him. I was lucky that we had been going about the same speed."
Busch's Andretti Autosport teammate Ryan Hunter-Reay said that a shift in wind direction compared to previous practice days may have caught Busch.
"The wind direction and conditions in Turn 2 were tricky for everyone today," said Hunter-Reay, who was four cars ahead of Busch at the time of the accident.
Check out the video of the crash, and you will see that it was most definitely a very hard impact!
TIL NEXT TIME, I AM STILL WORKING ON MY REDNECK!