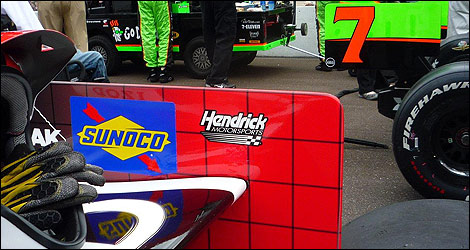 (photo courtesy auto123.com)
This Hendrick Motorsports decal was spotted Sunday at The Centennial Indy 500 on the wings of two of the Team Penske Racing cars on the grid before the start of the race.  The decals were on the inside rear wingplate on Will Power's #6 Dallara Honda and Ryan Briscoe's #12 Dallara Honda.
This could only lead to speculation that, quite possibly,there could be a alliance between Penske and Hendrick in Indy Car.  This comes at a time when Chevrolet has announced that it will be coming back into the open wheel racing world, in particular, the IndyCar Series in 2012.
One rumor running throughout the garage area is that, Penske officials are keen to add Simona de Silvestro to their team but are having financial issues with three cars.  On the Hendrick Motorsports question, Penske officials would not comment on why HMS decals were on the two cars.
An alliance with Hendrick, a big Chevrolet dealer, could help. And remember, Ganassi now has two-two car teams with Dixon and Franchitti, Rahal and Kimball. A Penske Hendrick Alliance could work like Ganassi's two teams.
Additionally, Honda just announced that they would be making Target Chip Ganassi their lead team in developing their new engines for the IndyCar Series in 2012.
Could this be the start of a move away from Honda and towards Chevrolet and a possible Hendrick Motorsports alliance for Team Penske in the IndyCar Series?
TIL NEXT TIME, I AM STILL WORKING ON MY REDNECK!