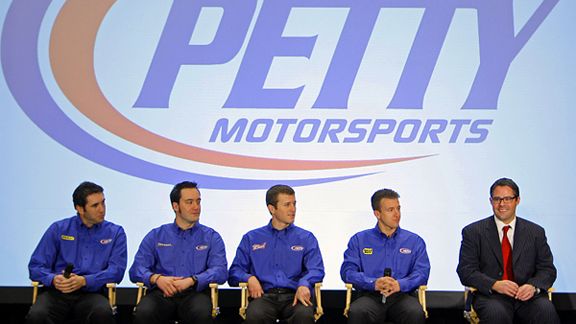 (photo courtesy Chuck Burton)
In the last two years this organization has merged three times and been housed in four different shops and changed their name from Petty Enterprises to Richard Petty Motorsports.  It has gone from basically a one car team to a four car team and from Dodge to Ford.
The irony of all these mergers of Petty Enterprises/Richard Petty Motorsports is that the newly merged organization has a shot of being as strong as " The King" was in the heyday of Petty Enterprises.  The merger will quash the question of equipment, it will now come from the Roush-
Fenway Racing.  RPM will pick up a wealth of technical support from beefed-up Ford, something that it never got from Dodge.  It will share information not only among the four RPM drivers, but also among the four Roush-Fenway drivers as well!
The "big dog" at RPM, Kasey Kahne, is excited about the possibilities there, enough so that publicly he willing to state that RPM has a chance to re-sign at years end.  But many say that will not happen.  Some already have Kahne penciled in as the third driver at Stewart-Haas Racing, or some other high powered race team.
"I'm definitely going to give them a shot here", Kahne said.  That is a far cry from his words in November!  Maybe it is a negotiating ploy.  Maybe he honestly believes that!
All four of the RPM drivers, Kasey Kahne, Elliott Sadler, Paul Menard, and A.J. Almendinger, contracts are up at the end of the 2010 season.  That might [prove to be a very interesting contract time for the organization!