The inductees for the very class of the NASCAR Hall of Fame, the class of 2009, has been announced.  The list fo inductees produced a surprise or two this year.  Looking at all the pioneers that were not selected this year leaves the selection committee with a very daunting task!  With only a maximum of 5 inductees per year, the list of people who should be in the Hall of Fame becomes overwhelming and creates a major bottleneck!
Consider these comments from Ed Hinton of ESPN.com:
David Pearson won't be — can't be — left out next year. He shouldn't have been left out Wednesday. That was the greatest travesty of NASCAR's landmark day.
Who's next?
•  Pearson, simply the best driver ever in NASCAR, got the sixth-most votes Wednesday. On championships, he batted 1.000 — three full seasons run, three titles won. What's so great about a guy who ran partial schedules? Take 1973, when he entered 18 races and won 11. And of course there's the matter of his 105 wins, second only to Petty's 200.
•  Bobby Allison, another near miss Wednesday and the leading vote-getter among fans, understandably because he has given not only his life and health but much of his family to racing — sons Clifford and Davey are dead, Clifford in a NASCAR crash and Davey of a helicopter crash at Talladega. Not to mention Allison's being tied for third on the all-time wins list with 84.
•  Cale Yarborough, Wednesday's other near miss, the little bulldog, the most tenacious of them all, the first three-peat champion, who never let up, even when two, three, four laps down, and often made them up to win on his way to 83 career victories.
But beyond those three, another bottleneck looms for 2010.
[+] Enlarge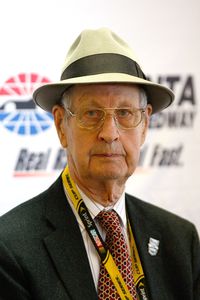 Kevin C. Cox/Getty ImagesRaymond Parks — a founding father of NASCAR — will get into the Hall of Fame, but will he be passed over again in 2010?
Raymond Parks shouldn't be, but probably will be, left out again next year. It is as safe to say there would be no NASCAR without Parks as it is to say it of Bill France Sr., the putative solo founder, the first inductee named to the first class.
The idea of a classy operation, of racing clean, brightly painted cars in good repair, was Parks' before it was France's. He showed France how it ought to be done. Parks was the first first-class team owner. France had the dream, but Parks had the money and the spirit to follow through.
It wasn't France who came up with the name National Association for Stock Car Auto Racing and the acronym NASCAR; it was Parks' chief mechanic, Red Vogt. And it was Parks' cars that, driven by Red Byron, won the first championship, in 1949, of what would become the Sprint Cup division.
Figure Parks is passed over again, make Pearson, Allison and Yarborough locks, and you still have at least eight entirely worthy candidates for the remaining two spots of next year's round.
•  Buck Baker, the salty pioneer who in 1956-57 became the first driver to win consecutive championships.
•  Byron, the wound-crippled World War II veteran who came home to win NASCAR's very first race, at Daytona in 1948, and the first strictly stock championship in '49.
•  Ned Jarrett, more as a milestone broadcaster who was the face and voice of the boom era than as a two-time champion driver.
•  Lee Petty, patriarch of NASCAR's first lineage of drivers, the first man to treat a racing team as a for-profit business, a three-time champion, a 54-race winner.
[+] Enlarge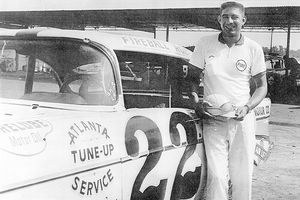 RacingOne/Getty ImagesFireball Roberts was a star in NASCAR before two of the three drivers elected into the Hall of Fame on Wednesday had even made their names in the sport.
•  Fireball Roberts, NASCAR's first national household name and charismatic figure — when his death made the Today show in 1964, America had only barely heard of the budding Richard Petty.
•  Curtis Turner, the wild man, the former bootlegger, the lumber magnate, renegade pilot and racer, who once, after a demolition duel with fledgling Bobby Allison, walked up to the youngster, put his arm around him and said, "C'mon, Pops! Let's go have a drink!" Turner called everybody"Pops" and therefore was himself called "Pops", and always invited everybody — anybody — for a drink.
•  Darrell Waltrip, the one-man revolution who brought a sweeping new swagger, polish, wit and braggadocio to NASCAR, backed up his mouth with 84 wins and three championships, and remains an institution as a broadcaster.
•  Joe Weatherly, "Little Joe"; the pudgy, fearless class clown of his time, who after his championships of '62 and '63 hurtled toward what would have been NASCAR's first three-peat — but then was killed in the very first race of the '64 season, at Riverside, Calif.
So there you have it for next year: at least a dozen worthy contenders for five spots. And that doesn't even include some of the 25 on NASCAR's initial list of nominees this year.
"Workingonmyredneck" believes that NASCAR should have, in the first 5 years, more that 5 inductees per year.  Yes the ceremony might be cumbersome, but there are many NASCAR pioneers that are very deserving to be there.  Those pioneers were the backbone of the organization in the early years, and therefore need to be enshrined for all to see!
What do you think about the first class of  inductees, and more importantly, what about those who failed to make the grade this year?
TIL NEXT TIME, I AM STILL WORKING ON MY REDNECK!